Key specs
Base trim shown
Overview
The good:
Massively improved interior controls layout
Even roomier backseat
Improved forward visibility
Improved hybrid performance
Interior quality
Available wireless Apple CarPlay, Android Auto (with wireless charging)
The bad:
Pokey gas engine
Noisy under hard acceleration
Mushy brakes (hybrid)
Rear visibility
Wind noise (gas-only model)
Hybrid doesn't live up to "Sport" trim name
2 trims
Starting msrp listed lowest to highest price
Notable features
Redesigned for 2023
Five-seat compact SUV
Carryover 190-hp, turbo 1.5-liter four-cylinder (EX, EX-L)
New 204-hp hybrid powertrain (Sport, Sport Touring)
Front- or all-wheel drive
Hybrid has 1,000-pound towing capacity
2023 Honda CR-V review: Our expert's take
The verdict: The redesigned 2023 Honda CR-V is an improvement over the outgoing fifth-generation SUV, with a much more user-friendly interior and improved hybrid performance.
Versus the competition: After years of trending downward as the competition got better and it stayed the same, the all-new CR-V rights the ship and is once again a choice worthy of its historically strong sales.
Honda's CR-V compact SUV is a popular choice with consumers — it's consistently been Honda's bestselling vehicle — but among Cars.com's editors, its popularity has waned as other compact SUVs have gotten better. In our last three compact SUV comparison tests since the fifth-generation CR-V debuted as a 2017 model, the CR-V has had worse and worse finishes: second out of seven vehicles in 2017; fourth out of seven in 2019; and dead last in a field of six in 2021. On top of that, a head-to-head comparison of the 2021 CR-V hybrid and 2021 Toyota RAV4 Hybrid saw the Honda take another loss. This decline in performance had more to do with improved competition, but it wasn't a good sign for the CR-V.
Related: 2023 Honda CR-V Up Close: Keeping the Competition on Its Toes
The new CR-V's exterior and interior design takes after the Civic compact car, and the 2023 CR-V hybrid also gets a new, more powerful powertrain that makes slightly more horsepower and low-end torque. The lineup consists of four trim levels: two gas-only models and two hybrid variants. The EX is the base gas-powered model, while the next most affordable is the Sport, the cheaper of the two hybrids. The EX-L is the most well-equipped gas model, while the Sport Touring hybrid tops that range. Honda said the entry-level LX version of prior generations might return at some point.
To see what the redesigned SUV is like to drive, I traveled to Santa Barbara, Calif., at Honda's invitation to test the 2023 CR-V hybrid and (briefly) the gas-only CR-V. (Per Cars.com's ethics policy, we pay for travel and lodging when attending such manufacturer-sponsored events.)
Driving: Mostly Better, Sometimes Familiar
In our 2019 comparison test, the CR-V had the quickest measured 0-60 mph time but tied for last in our powertrain scoring. That was partly because it also had one of the slowest 0-10 mph times, and its 190-horsepower, turbocharged 1.5-liter four-cylinder and continuously variable automatic transmission were incredibly noisy. Regrettably, those trends continue in the gas-powered 2023 CR-V; it feels pokey, particularly from a stop, and wails under acceleration. Ride quality in the gas version remains a strong suit, with more firmness than necessary but impressive isolation. I also preferred the gas CR-V's braking feel, which was direct and linear compared with the CR-V hybrid.
I spent the most time driving an all-wheel-drive CR-V Sport Touring, which uses a new hybrid powertrain that combines an updated 2.0-liter four-cylinder gas engine with two electric motors. It makes 204 hp combined — Honda says that's up from the fifth-gen's 201 hp, per International Organization for Standardization ratings the automaker now follows — and produces 247 pounds-feet of torque, a more significant improvement over the previous model's 232 pounds-feet. The result of these updates is a sportier driving experience compared to the fifth-generation hybrid, with improved low-end torque and better acceleration from a stop, but I'm not sure I'd go so far as to call the hybrid's driving experience sporty — even though the hybrid is the only CR-V with a Sport driving mode. Switching to Sport improves accelerator response slightly (though there's lag regardless of the driving mode) and alters its Active Noise Control system so that it produces a more aggressive sound while accelerating. Again: sportier, but not necessarily sporty.
In our earlier comparison test of the 2021 Honda CR-V Hybrid and Toyota RAV4 Hybrid, the Toyota walked away with the driving-related categories. The new CR-V hybrid would do better against the Toyota, but the RAV4 Hybrid is still the sportier choice.
The new CR-V hybrid is more enjoyable to drive than its predecessor, and that's worth the slight drop in AWD fuel economy to 40/34/37 mpg city/highway/combined from the fifth-gen's 40/35/38 mpg. The redesigned CR-V hybrid is available with front-wheel drive (the last model was AWD-only) and gets an impressive 43/36/40 mpg, according to Honda. The CR-V hybrid also has a 1,000-pound maximum towing capacity, while the previous version's towing rating was "Please, don't." (It didn't have one.)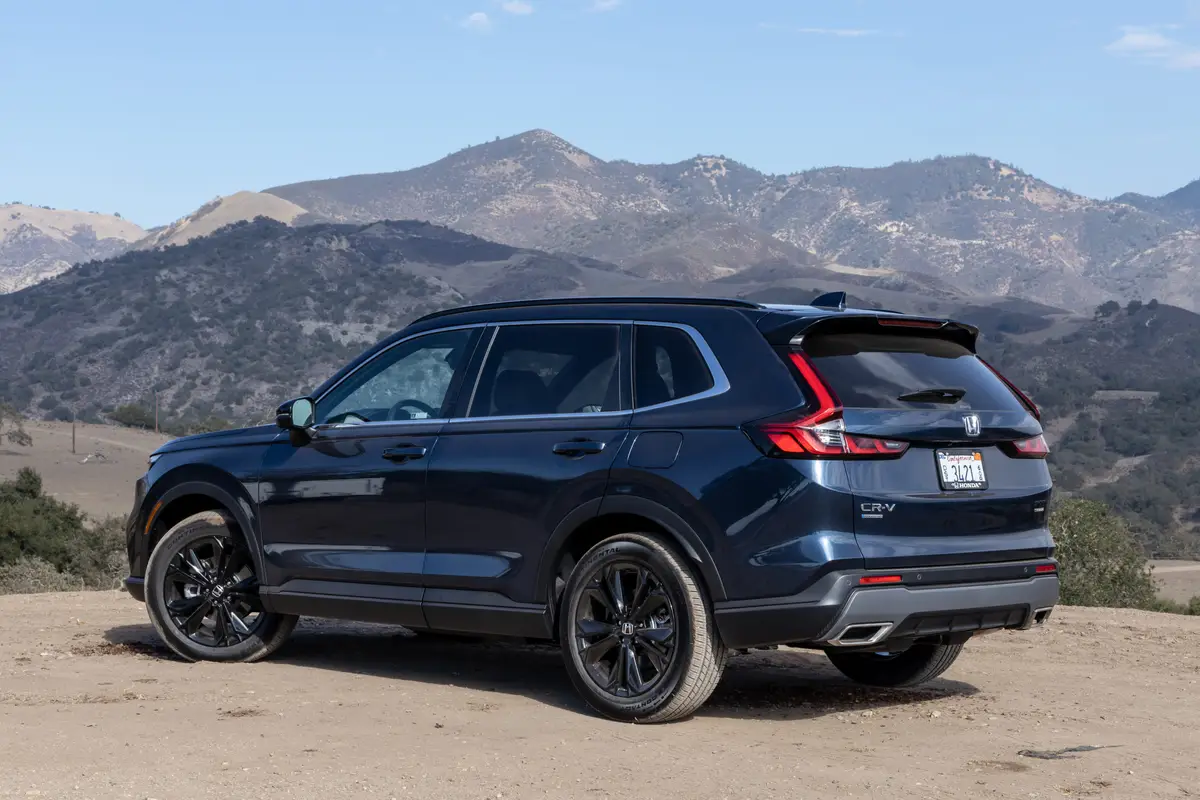 The new CR-V hybrid also handles better than its predecessor, with more direct steering feel and improved cornering. Driving the old model felt like driving a bigger vehicle; the new hybrid, while physically bigger, feels much more maneuverable and has more communicative steering. Ride quality seems to have been sacrificed to get to this point, but the ride is still comfortable.
The new CR-V hybrid's brakes, however, feel mushy and nonlinear, but Honda has some tricks up its sleeves to reduce brake usage. There's a "B" driving mode on the gear selector that activates the strongest regenerative braking, and it's capable of slowing the hybrid even when descending hills. It's not a true one-pedal driving system like those found in fully electric vehicles, but Honda views it as a step toward normalizing EV features for buyers as it moves to electrify its entire lineup.
While Honda says the new CR-V hybrid is a step toward an electrified future, noticeably absent from the lineup is a plug-in hybrid version. That would build familiarity with home and public EV charging, and if the remarkably quick and fun-to-drive plug-in Toyota RAV4 Prime is any indication, a PHEV version of the CR-V might better live up to the "Sport" trim name.
Vastly Improved Interior
While the CR-V's exterior design, at least from the front and rear, is decidedly Civic-inspired, the interior might as well just be the Civic's interior — and that's a great thing for the CR-V, as the previous generation lagged far behind its competition.
The 2023 CR-V's interior is notable not just for its impressive aesthetic, but also its easy-to-use control layout; it succeeds because it doesn't really do anything stupid. There are physical climate and audio controls, and while there's no tuning knob, the tuning buttons directly below the volume knob are easier to reach than a tuning knob that could've been placed at the opposite corner of the touchscreen. The other buttons on the touchscreen look like flush, touch-sensitive controls but are actually physical buttons. The Nissan Rogue also does this, and it's a great way to have the touch-sensitive aesthetic without its usability issues.
Regardless of trim, the CR-V comes with Apple CarPlay and Android Auto smartphone connectivity. On the EX and Sport, which have 7-inch touchscreens, the connectivity is wired-only; on the EX-L and Sport Touring, which use a larger 9-inch touchscreen, it's wireless. And where there's wireless connectivity, there's also a wireless device charger, which isn't always a given. I had some issues keeping my phone charging in the wireless charger, but there are USB-A and USB-C ports (the latter charging-only) up front, as well.
The new CR-V also has a better gear selector layout in both gas and hybrid versions. In the fifth-gen CR-V, the gas version had a minivan-like angled lever protruding from the center of the dashboard, while the hybrid had an unintuitive button-based setup; the 2023 CR-V has a traditional gear selector lever. While it does have less front storage than it did previously, the center console is still deep and I felt like I had plenty of space for all my stuff. The larger center console also makes the cockpit feel more enclosed, though I did have enough legroom (I'm 6-foot-1).
The backseat of the CR-V remains a strong suit, adding legroom and eight positions of seatback recline with the redesign. It's a very comfortable place for adults to sit, and the CR-V hybrid also includes two rear charge-only USB-C ports. The one downside of the backseat is the ceiling-mounted seat belt for the middle seat, which adversely impacts rear visibility.
Honda says rear cargo space has increased, measuring 36.3 cubic feet with the backseat upright and 76.5 cubic feet with the backseat folded flat. What's more, gas-powered models have a Honda-measured 39.3 cubic feet of cargo room when the load floor is in its lowest position. We didn't get a chance to take our own cargo measurements, but the cargo area in the CR-V hybrid seemed especially roomy with a nice, low load floor.
More From Cars.com:
Safety
Honda has updated the CR-V's safety features with enhancements to the Honda Sensing suite of safety technology, widening both camera and radar fields of view for better detection capabilities. Other improvements include newly standard blind spot monitoring and updated airbag designs meant to improve occupant safety in the event of a collision. As of this writing, the 2023 CR-V hadn't been crash-tested by the Insurance Institute for Highway Safety or the National Highway Traffic Safety Administration.
Feels Competitive Again
The 2023 CR-V brings significant improvements versus the prior generation, and it feels like a much more competitive vehicle. While pricier than the 2022 model, the 2023 CR-V continues to represent decent value: The FWD EX's starting price of $32,355 might seem steep, but the range-topping Sport Touring hybrid starts at just under $40,000. The winner of our most recent comparison test, the Nissan Rogue, also tops out just under $40,000 — but as a gas-only model, it trails the CR-V Sport Touring in fuel efficiency. The CR-V's most stalwart competitor, the Toyota RAV4, does offer a similarly priced loaded hybrid variant and is a step ahead of the CR-V with the aforementioned sportier RAV4 Prime PHEV. We'll have to wait and see whether the changes are enough to improve the CR-V's finishing order in a comparison test.
Related Video:
Cars.com's Editorial department is your source for automotive news and reviews. In line with Cars.com's long-standing ethics policy, editors and reviewers don't accept gifts or free trips from automakers. The Editorial department is independent of Cars.com's advertising, sales and sponsored content departments.
---
More from our experts:
New car program benefits
Bumper-to-bumper

36 months/36,000 miles

Corrosion

60 months/unlimited distance

Powertrain

60 months/60,000 miles

Roadside assistance

36 months/36,000 miles
Certified Pre-Owned program benefits
Maximum age/mileage

Less than 12 months or 12,000 miles from their original in-service date.

Basic warranty terms

4 years/48,000 if vehicle purchased within warranty period 1 year 12,000 miles if vehicle purchased after warranty period expired

Powertrain

7 years/100,000 miles

Dealer certification required

Roadside assistance

Yes
View all cpo program details

Have questions about warranties or CPO programs?

All model years for the Honda CR-V

Show more years

Show fewer years