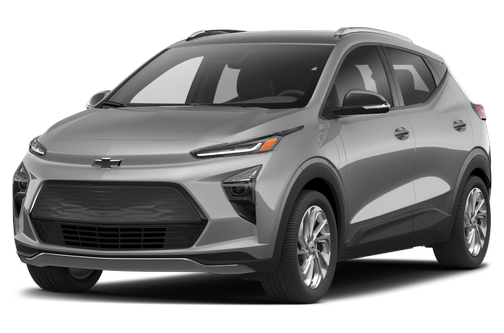 Key specs
Base trim shown
2 trims
Starting msrp listed lowest to highest price
2022 Chevrolet Bolt EUV review: Our expert's take
Chevrolet made a splash when its Bolt EV electric car arrived for the 2017 model year. The company's first mass-produced, fully-electric passenger car (remember, the Volt had a range-extender gas engine on board), it was GM's first ground-up effort for a dedicated battery-electric vehicle (BEV) since the EV1 — but it came with a few compromises. The battery was big and expensive, so cost had to come out, and it was obvious where Chevy cut those corners: The interior felt cheap and thin, and the seats were woefully undersized and uncomfortable.
Fast forward to the 2022 model year, and we have the Bolt EV's first major refresh sporting an all-new interior, but we also have something else in the showroom with it: the 2022 Chevrolet Bolt EUV, with the "U" standing for Utility.
Related:  2022 Chevrolet Bolt EV and Bolt EUV: Bow-Tie EVs, Now In Two Sizes
It's a slightly bigger version of the Bolt EV — about 6 inches longer overall, which translates to more room for backseat passengers and more overall cargo space. It's also a little taller than the Bolt EV, looks a little different and offers equipment not available on the smaller model, such as Chevrolet's first appearance of GM's Super Cruise semi-autonomous driving system and a panoramic moonroof. But with so many new EVs now appearing in showrooms and GM's own next-generation Ultium-based EVs only a year or two away, will the bigger Bolt EUV interest buyers or lure them away from a Tesla Model Y? Judging by our first, brief drive in the thing, it certainly should.
(Disclosure: My family has just finished our lease of a 2017 Chevrolet Bolt EV and currently has a reservation for a 2022 Bolt EUV Launch Edition in place, expected for a summer delivery.)
Larger
Now when I say that the Bolt EUV is a bigger vehicle, understand that this is a relative thing. It's bigger than the Bolt EV on which it's based, but it's still a small compact crossover-style vehicle, narrow in its cabin, with a footprint dwarfed by competitors like the Ford Mustang Mach-E. But what a difference that extra length and interior room make over the Bolt EV: Not only are backseat passengers' knees no longer touching the front seatbacks, but the extra length also shows up in how the Bolt EUV rides and handles — which is to say absolutely beautifully, especially when compared with other EVs that struggle to perfect that ride and handling balance (looking at you, Mach-E, with your miserable bounciness). 
How much smaller is a Bolt EUV than some competitors? Its wheelbase is nearly a full foot shorter than the Mustang Mach-E's, 3.6 inches shorter than a Volkswagen ID.4's and an inch less than a Nissan Leaf's. Despite this significant size deficiency, the Bolt EUV's packaging wizardry creates an interior with more legroom than the Mustang Mach-E for both front and rear occupants, which is a remarkable achievement. You'll feel the tightness in the width when two big people sit next to each other, but it's now easier to fit three full-sized humans in the backseat thanks to the flat floor and extra legroom, something that was harder to do in the Bolt EV.
One curiosity: There is no boost to cargo space over the smaller Bolt EV, as Chevy said it chose to instead optimize occupant space over additional cargo room on the longer wheelbase. This would suggest that the stretch in the wheelbase is only part of the reason there's more backseat legroom; Chevy moved the seat rearward along with the stretch, and the official cargo numbers actually show that the Bolt EUV loses a tiny bit of room compared to the Bolt EV, but not enough to notice. It's still a small crossover-sized compartment, and there is no front trunk (frunk) storage compartment in the Bolt EUV. Still, its packaging makes it a useful and comfortable city runabout that is easy to park, thanks to its tidy dimensions.
The other area that received considerable attention is the Bolt EUV's interior, which it shares with the redesigned Bolt EV. The dash and doors are completely redesigned and now feature a massive upgrade in materials quality. It doesn't feel like a hollow Playskool toy inside anymore — well-joined, solid construction is covered with top-quality trim that makes the feeling of the Bolt EUV's interior more upscale. The seats also were completely redone and no longer feel like thin, unpleasant, high-top barstools. It's a night-and-day improvement over the old Bolt EV, which goes to show you what spending a little more on interiors gains you. 
But perhaps the best feature of the Bolt EUV's interior is that it's not loaded up with touch-sensitive panels and touchscreens for all of the controls. It feels conventional and familiar in here, with actual dedicated buttons for climate control, different driving modes, lights, etc., just like you'd find in any other GM product. The minimalist "glass cockpit" design that is increasingly becoming a signature of German vehicles in particular has been tried at GM — and was a reason Cadillac's quality scores suffered. Instead of making the Bolt EUV feel like a spaceship inside, Chevy instead made it feel like a near-premium conventional SUV, just one that has an electric powertrain, and I count this as a major win. There's no learning curve to using the Bolt EUV — everything feels familiar and works as it should with minimal distraction.
That's not to say that there aren't some special features in the Bolt EUV that you won't find elsewhere, because there are. First is the new shifter, a push- and pull-button layout that's easy to use and features something an easily reached button dedicated to, and labeled for, "one-pedal driving." Push the button below "D" and you turn on more aggressive regenerative braking, allowing you to drive using mostly just the accelerator pedal. It slows you more aggressively when you lift off the accelerator and can even bring you mostly to a stop, if you let it. If you want even more aggressive regen without touching the brakes, the paddle on the left side of the steering wheel adds even more regen-on-demand, helping you to maximize the amount of energy recaptured by the battery while minimizing the wear on your brakes. Of all the EV drive systems I've tried so far, Chevy may just have the best system yet for ease of use when you want to switch between regen modes, or to use a little bit more regenerative braking on a whim. I liken it to the task of using a manual transmission: Learn how to do it just right and it becomes fun and rewarding, not a chore. And I dare say that learning to maximize the Bolt EUV's regen system is considerably easier than mastering a manual.
The Bolt EUV becomes the first Chevy (and first GM EV) to feature the company's semi-autonomous driving system, Super Cruise. Combining onboard cameras with sensors and detailed pre-mapped data of more than 200,000 miles of North American roads, the system can take over steering duty in addition to distance-keeping as part of the car's cruise control system. It's not a fully autonomous system like Tesla's Autopilot (this is the first-generation Super Cruise system; it won't even change lanes for you, which is your job), but it does take some stress out of long-distance highway driving. You're still required to pay attention to what's going on, and the vehicle will monitor where you're looking via an infrared camera mounted on the steering column, so no nodding off, climbing into the backseat, reading a book or any number of other boneheaded moves we've seen Tesla drivers do on YouTube. But it does feel like a good intermediate step toward more autonomous operation in GM vehicles.
Faster
There are no changes to the Bolt EV's drivetrain, and so by relation, the Bolt EUV has familiar hardware. The battery is the same 65 kilowatt-hour lithium-ion unit seen in the last Bolt EV, and it allows for a predicted range of 250 miles on a single charge here. But charging it up can be faster now, as every Bolt EV and Bolt EUV comes with standard DC fast-charging capability (previously an option on the Bolt EV). This should allow for adding up to 95 miles of range in about 30 minutes at a public DC fast-charging station, while a full recharge on 240 volts still takes about seven hours. Plugging it into a 120-volt home wall outlet will give you 4 miles of range per hour, and if you do the math, means a full recharge could take more than two-and-a-half days. Suffice it to say, you're going to want a 240-volt circuit installed at home, and Chevy is even willing to help you do that: The Bolt EUV's supplied charging cord can be plugged into a standard 240-volt outlet, so no additional home charging unit is required. 
In terms of driving performance, the Bolt EUV feels just as sprightly and quick as the old Bolt EV. Any extra weight from its additional length really isn't noticeable in the acceleration or handling, both of which are surprisingly entertaining. There's even a Sport mode button if you're not worried about range and just want to see what 266 pounds-feet of torque feels like at zero rpm (instant grins, I assure you). Steering feel is surprisingly weighty, not video-game numb as in some EVs, and the low center of gravity thanks to the heavy battery in the floor makes it fun to throw the Bolt EUV into corners, powering out of them with some wheelspin as the instant torque briefly overpowers the front tires' grip. The only quirk comes with the brakes, which — like most EVs — have very little feel, feedback or linear progression as you approach a full stop. 
Stronger
The new body style — with its extra room, better ride quality, top-notch interior, state-of-the-art tech and easy-to-use controls that don't make you hunt through endless multimedia screen menus to pop the liftgate — makes a much stronger case for the Bolt family than the original did. And to top it off, Chevrolet has priced the Bolt EUV where the old Bolt EV used to be: A base Bolt EUV LT starts at $33,995 including destination, while a fully loaded Launch Edition (the only kind you can actually order right now) rings in at $43,495. That base price is actually $3,500 less than what the smaller 2021 Bolt EV LT starts at with fewer features and less interior space. The price has to be less since GM has now sold enough EVs to no longer qualify for the $7,500 federal tax credit, so more competitive pricing is a must.
But at the end of the day, what you're looking at in the 2022 Bolt EUV is a more comfortable, more spacious, more capable, more technology-laden electric vehicle that stickers for a lot less money than the model that preceded it.
Cars.com's Editorial department is your source for automotive news and reviews. In line with Cars.com's long-standing ethics policy, editors and reviewers don't accept gifts or free trips from automakers. The Editorial department is independent of Cars.com's advertising, sales and sponsored content departments.
---
More from our experts:
Warranty
New car and Certified Pre-Owned programs by
Chevrolet
Certified Pre-Owned program benefits
Maximum age/mileage

5 model years or newer/up to 75,000 miles

Basic warranty terms

12 months/12,000 miles bumper-to-bumper original warranty, then may continue to 6 years/100,000 miles limited (depending on variables)

Powertrain

6 years/100,000 miles

Dealer certification required

Roadside assistance

Yes
View all cpo program details

Have questions about warranties or CPO programs?

All model years for the Chevrolet Bolt EUV