Should You Buy a 2021 Chevrolet Trailblazer or Spend More for a 2020 Buick Encore GX?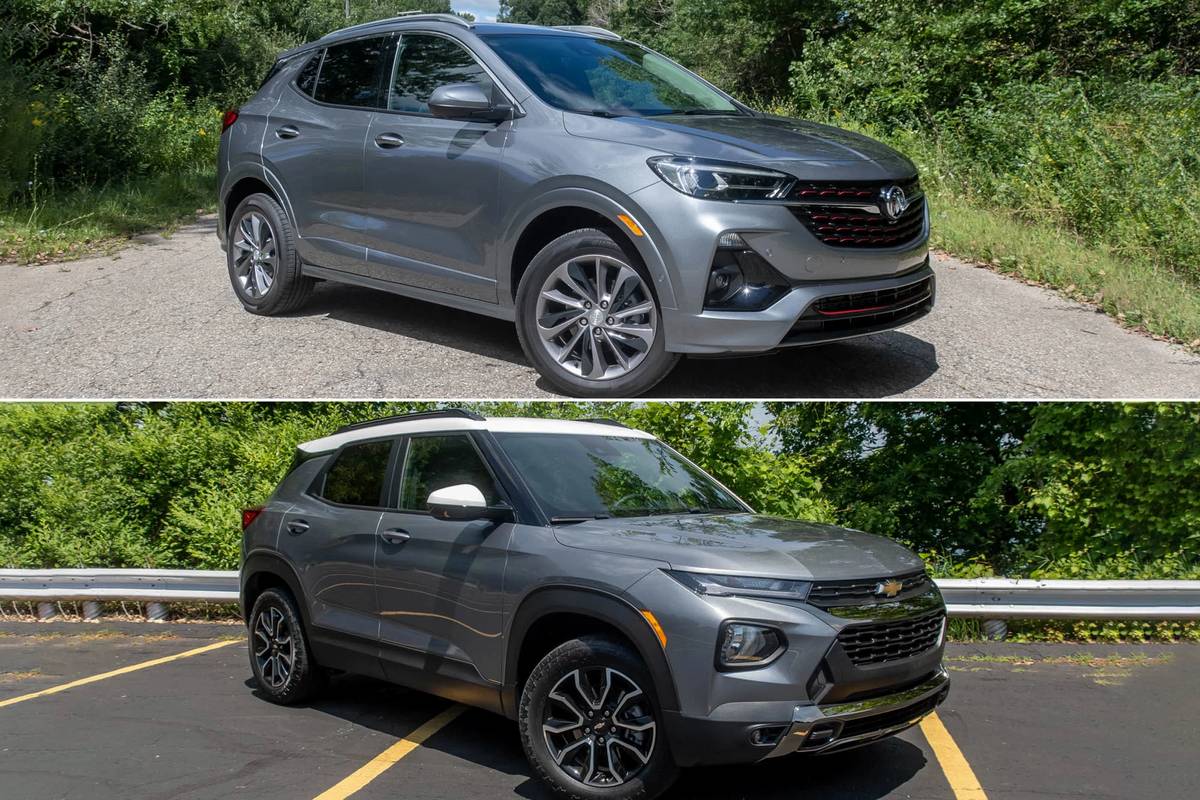 It's not uncommon for automakers to make more than one vehicle out of shared parts. It cuts costs to have common running gear, engines, chassis bits, electronics and more that are shared across several brands. GM has done it for decades and still does it today. Witness its latest little cute utes, the 2021 Chevrolet Trailblazer and 2020 Buick Encore GX. Both SUVs are made off the same "platform," which means they share engines, transmissions, chassis, suspension and other components. They differ in the way they look, their option packages and the content and quality of their interiors, but they are, essentially, the same vehicle underneath.
Related: 2021 Chevrolet Trailblazer Review: Hitting the Sweet Spot
Both of these popular new SUVs arrived in my driveway within weeks of each other, and I have to admit I quite liked them both. The new Chevy Trailblazer is small and funky, well made, fun to drive, useful, spacious, up to date on its technology and is proving to be popular with buyers. It slots in size between the Chevy Trax and Equinox, becoming Chevy's defacto entry-level SUV.  Buick's new Encore GX slots between the smaller Buick Encore (Trax-related) and the mid-size Buick Envision. I liked the Encore GX as well, finding it to be a surprisingly quick given its meagre power rating, and a comfortable, stylish little runabout. 
But here's the kicker: The as-tested price for my 2021 Trailblazer Activ AWD trim was $30,580, a hefty sum for a vehicle this small and modestly powered, but not out of the realm of what people are apparently happily paying for such vehicles these days. The 2020 Buick Encore GX Essence Sport Touring AWD trim was essentially loaded and $5,000 more than the Chevy, stickering at $35,720. That's a hefty bump over the Trailblazer. Which leads to the question: With these two vehicles so similar in nearly every way, is the Buick worth such a significant premium over the Chevy? Are there enough differences between the two to justify the price?
Similar Driving Experience but Not Identical
Many aspects of both vehicles are indeed indistinguishable from each other, but there are a few differences between the two, according to a Buick spokesperson. First some similarities: Both offer a choice of two engines and two transmissions; the ones I tested were equipped with the optional turbocharged 1.3-liter three-cylinder mated to a nine-speed automatic transmission and sporting all-wheel drive. That brings just 155 horsepower and 174 pounds-feet of torque to the party, but the turbo helps keep both SUVs relatively sprightly in around-town driving (but not at higher speeds when it tends to run out of steam on highway on-ramps and passing maneuvers). The transmission is decent, and while it shifts frequently (it has nine gears and only 155 hp to play with), it does a fair job of keeping the engine in the power band when called for. The Chevy is perhaps more fun to drive, however, as it features a Sport mode that affects transmission behavior and throttle response, where the more sedate Buick does not.
Ride and handling are slightly different between the two, as the Encore GX features slightly different suspension tuning, a 1.7-inch-shorter wheelbase and different tire choices than the Trailblazer. Yes, the two SUVs do share the same platform, but the Encore GX is a bit shorter, and that can make a difference in ride and handling.
The Encore GX model I drove featured 18-inch wheels and tires (which are also available on the Trailblazer RS trim), but the Trailblazer test vehicle I had featured 17-inchers standard on the Activ trim. The Activ trim is also slightly more off-road tuned, so it did ride a little differently, with the Chevy slightly more supple due to its taller tire sidewalls.
But the Buick was a little quieter, thanks to different door seals working in conjunction with different tires and standard active noise cancellation that both vehicles came equipped with (but only Trailblazers with AWD get the noise cancellation as standard). But being a trained automotive reviewer, I'm able to pick out such subtle differences. I'd charge that for the average buyer, the differences between the Trailblazer and Encore GX's driving experiences will be nigh imperceptible. 
A Matter of Style
There's no arguing that the Trailblazer and Encore GX feature considerably different styling, both of which play to their brand's specific looks. The Chevy adheres to a more rugged SUV look, with the Activ trim especially bringing that aesthetic into focus with ruggedized plastic wheel arches. There's plastic on the outside of the Encore GX as well, but the overall appearance is a sleeker, carlike look that matches up well with the rest of the Buick lineup. You wouldn't necessarily make the connection that they're largely identical underneath. 
Inside, the differences should be bigger than they are, given the two brands' identities. Styling differs of course, with the Chevy again hewing toward its brand themes, and the Buick going for a more upscale look available in three possible colors to the Chevy's limit of two. But material quality isn't appreciably different between these two SUVs.
Interior quality is acceptable for a vehicle in this category, but with Buick being a more aspirational premium brand, its top Essence Sport Touring trim should be a bit richer than it is. The differences tend to be a bit more subtle and deal with what kinds of equipment the Encore GX can be had with that the Trailblazer cannot: an auto-dimming rear camera mirror with washer, dual-zone climate control, real leather seats instead of leatherette, a standard 8-inch multimedia screen and 4.2-inch color gauge cluster versus the Chevy's standard 7-inch screen and 3.5-inch cluster, a head-up display, surround-vision camera and more.
The Buick can also be had with a bunch of electronics that aren't featured on the Chevy, like automatic parking assist (the Chevy just has backup sensors), rain-detecting automatic windshield wipers and lane change alert. So the Buick does bring additional content for your extra cash, it's not just all about styling and a slightly quieter cabin.
Is the Buick Worth the Extra Money?
If you base the decision on the driving experience, then no, there's no reason to spend the extra cash on the Buick if you're looking for a more athletic, more luxurious or more entertaining driving experience. The Trailblazer and the Encore GX behave so similarly in how they move that the reasons for picking the Buick over the Chevy come down to two: styling and features.
Your preference on looks is, of course, subjective, but there are features and equipment available on the Buick that you simply can't get on the Chevrolet. Most of it is convenience content  — bells and whistles we'd call it — as the Chevy is a perfectly competent and well-equipped little SUV on its own. But if you want more luxe for your bucks, the Buick offers some neat spiffs.
More From Cars.com:
Cars.com's Editorial department is your source for automotive news and reviews. In line with Cars.com's long-standing ethics policy, editors and reviewers don't accept gifts or free trips from automakers. The Editorial department is independent of Cars.com's advertising, sales and sponsored content departments.