Report: Headlights Improving, But Most Base Models Still in the Dark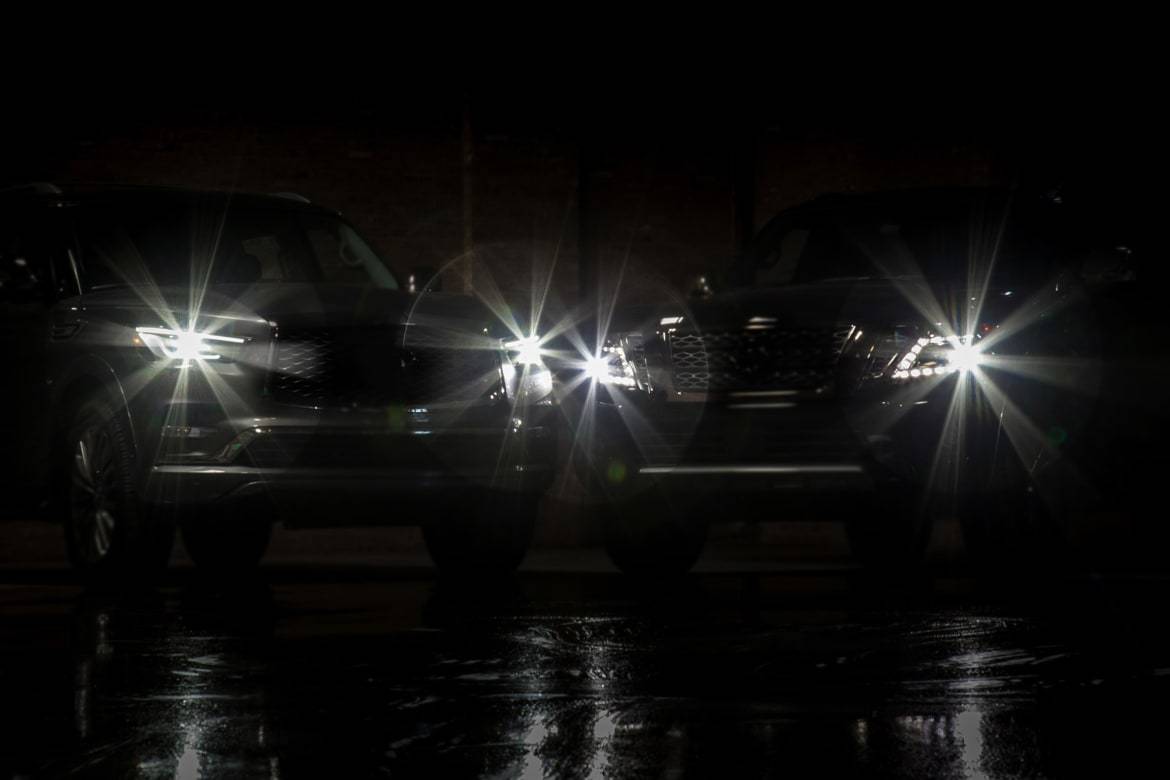 Headlights have improved a lot in the past few years, according to a new report from the Insurance Institute for Highway Safety. The agency says more than half of the 165 model-year 2018 vehicles it's tested offer headlights rated good or acceptable (out of good, acceptable, marginal or poor), up from just two out of 195 cars tested that earned those ratings in the 2016 model year. That's the good news.
The bad news? Most automakers make you pay more to get those improved headlights by keeping them as extra-cost options, part of expensive options packages or only in higher trim levels.
Related: Blinded by the Light: Approval for High-Tech Headlights May Help
That's just wrong, says David Aylor, manager of active safety testing at IIHS: "Consumers shouldn't have to buy a fully loaded vehicle to get the headlights they need to safely drive at night," Aylor said in a statement from IIHS. "All new vehicles should come with good headlights."
The agency says about half of all fatal crashes in the U.S. occur in the dark, and more than a quarter occur on unlit roads. Good headlights also are essential to spot pedestrians, bikes, deer and other hazards.
Among the 165 model-year 2018 cars IIHS tested, 32 received a good rating for the best available headlight option, while 58 got the next highest rating of acceptable. A good rating is one of several requirements for a given vehicle to earn IIHS' highest safety award, Top Safety Pick Plus, while acceptable is required for the agency's lesser Top Safety Pick award. But not every automaker has upped its game: Thirty-two models offered marginal headlights at best, and 43 fly blind with all available headlight configurations rated poor. (See the full headlight hall of shame below.)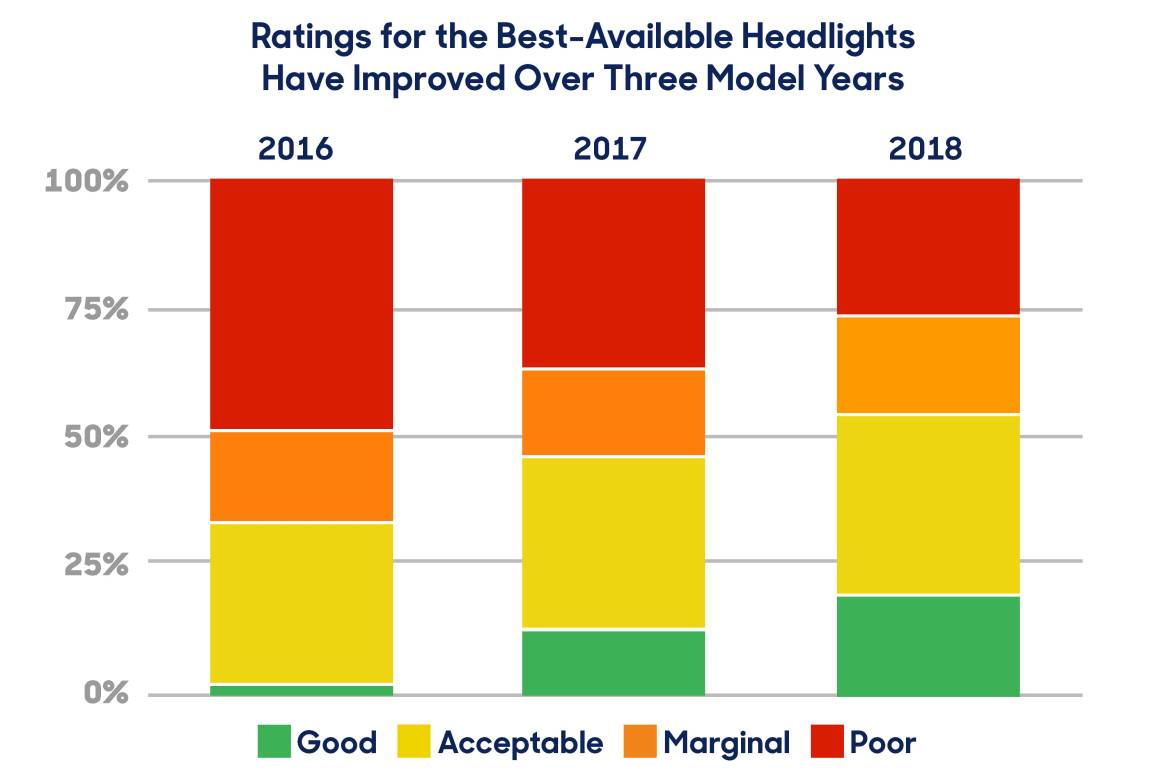 Even the cars with high ratings require careful shopping to get the best lights, since a vehicle may have several available headlight configurations. IIHS evaluated 424 variations available on 2018 model-year cars, and 67 percent of the variations rated marginal or poor due to inadequate visibility, excessive low-beam glare for oncoming drivers or both. For the most part, the best-rated beams were not on the base models.
IIHS cited the new Hyundai Kona subcompact SUV as an example of the pitfalls for shoppers trying to watch their budgets. The good-rated LED projector headlights on the top two trim levels of the Kona lit almost 450 feet on the right side of the road in the straightaway test for low beams, but the Kona's two lower trim levels (SE and SEL) have poor-rated halogen projector low beams that only illuminated 220 feet. 
"The Kona's LED low beams should give a driver traveling straight at 65 mph enough time to identify an obstacle in the road and brake to a stop," Aylor said. "In contrast, someone with the halogen lights would need to drive 25 mph slower to have enough time to react to avoid a crash."
Related: How Do I Know My Headlights Are Aimed Properly
IIHS found just two 2018 models on which you could get nothing but good headlights, regardless of options or trim level, and both are luxury vehicles: the Genesis G90 flagship sedan and Lexus NX mid-size SUV. And just four others have nothing but good or acceptable lights: Chevrolet Volt, Genesis G80, Mercedes-Benz E-Class and Toyota Camry. Seventeen vehicles, meanwhile, had good ratings for their top headlights but poor ratings for their lowest-rated lights.
"Manufacturers have made changes to improve headlights, whether through better aim or the light source itself," Aylor says. "But we still see a lot of models where the base headlight is poor, so buyers really have to do their homework. … Unless you go for a test drive at night, IIHS ratings are the only way to know whether the vehicle you're considering will have good headlights."
Other Highlights (No Pun Intended)
Pickup trucks trail other vehicles. Of pickups sold in the U.S., only the Honda Ridgeline has available headlights that earn a good rating – and that's only for its top two trim levels, which cost about $12,000 more than the base model. Base Ridgeline models have poor-rated lights.
Toyota and Lexus have the most 2018 models with headlights that rate good or acceptable. Still, three Toyota models offer only poor headlights.
Automakers aren't waiting to see the light. Subaru, Hyundai, Kia, Mazda, Mercedes-Benz, Volkswagen and Volvo are among automakers that made running changes to certain 2018 models to improve headlights. Subaru's Crosstrek moved to good from poor for its best available lights, while the Outback to good from acceptable and the Forester to acceptable from marginal.
More vehicles are offering automatic high beams. Research shows drivers rarely use their high beams despite the better visibility, and IIHS gives extra credit in its testing for automatic high beams, which activate when the road ahead is empty but switch to low beams when sensors detect oncoming cars or traffic ahead. Of the 2018 models tested, 45 percent offer automatic high beams, up from 37 percent in 2017.
Aim first. While differences in the headlight technology matters, so does simply the aim of the lights. Properly aimed low beams light the road without blinding oncoming drivers.
The Lowlights
Headlight systems on 43 of the model-year 2018 cars tested by IIHS only get the poor grade, regardless of how much you spend:
IIHS' headlight tests measure the lights' reach on straightaways and curves, evaluating the amount of visibility provided by low beams and high beams as well as whether they produce excessive glare for other drivers. The agency weights low beams more because they're used more often; it also weights straightaway results more heavily because crashes are more common on straight sections of road.
Cars.com's Editorial department is your source for automotive news and reviews. In line with Cars.com's long-standing ethics policy, editors and reviewers don't accept gifts or free trips from automakers. The Editorial department is independent of Cars.com's advertising, sales and sponsored content departments.