How Well Does the 2020 Ford Explorer Tow a Camper Trailer?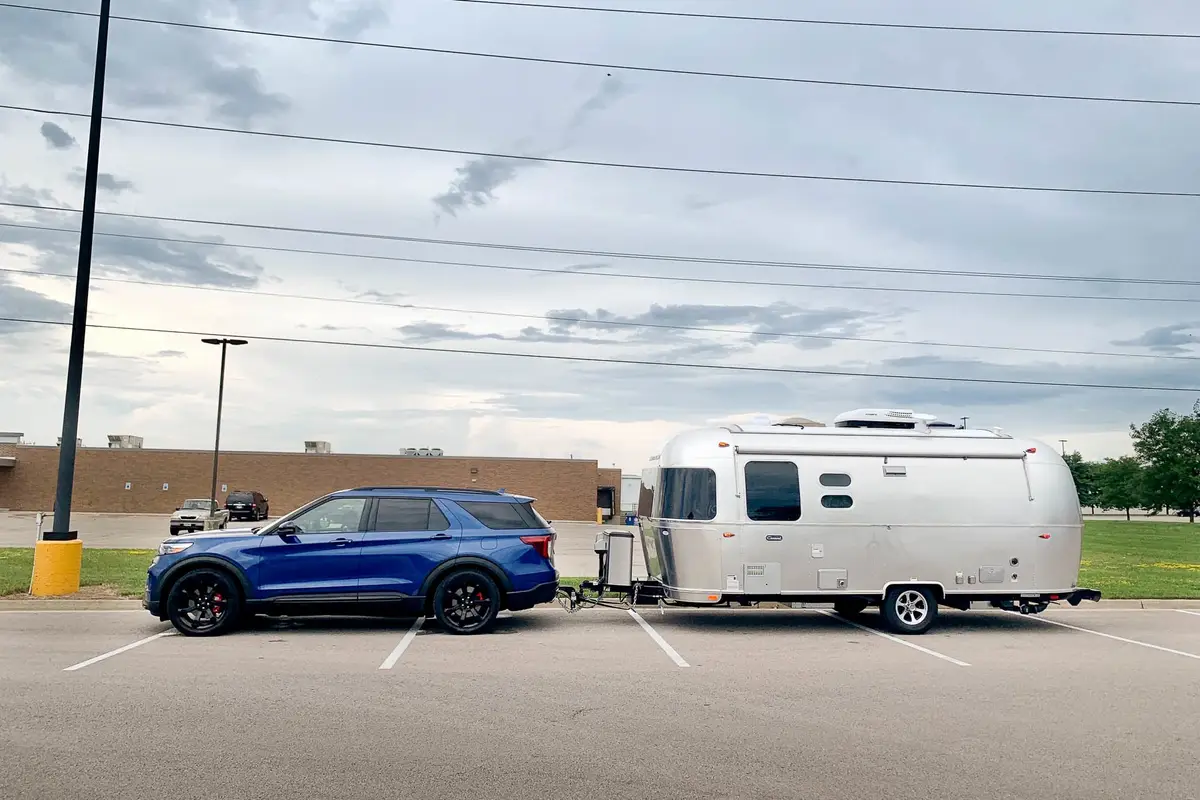 It's the summer of the camping adventure for many American families across the country. The idea of towing your own living quarters to remote, isolated wilderness areas has become more popular than ever as it enables you to have a safer, socially distanced family vacation. Many families these days own crossover-style SUVs bought "just in case they want to tow something," and now would seem to be the perfect time to do just that. My other half and I got out of the house ourselves, hooked a camper trailer to the bumper of the best-selling three-row crossover in the land and set off cross-country to see just how easy it is to tow a camper with a modern family hauler.
Related:  What You Need to Know Before Towing With an SUV
The Tug of the Moment
The all-new 2020 Ford Explorer has made quite an impression on the public since it debuted last year, and so far it is the best-selling three-row family crossover in America in 2020. It's a clean-sheet redesign for Ford's popular SUV, switching from the front-wheel-drive chassis of the previous generation to a dedicated rear-wheel-drive chassis for the latest model. It features a choice of powerful turbocharged engines, plenty of electronic safety equipment, optional all-wheel drive and even a high-powered sports model, the ST. For this tow test, I used a lovely Atlas Blue Metallic ST equipped with the upgraded 400-horsepower, twin-turbocharged 3.0-liter EcoBoost V-6 engine, a 10-speed automatic transmission, all-wheel drive, and most importantly for our test, the Class III Trailer Tow Package that comes standard on the ST. It includes an engine oil cooler, a frame-mounted Class III hitch receiver and an integrated seven-pin trailer connector in the rear bumper.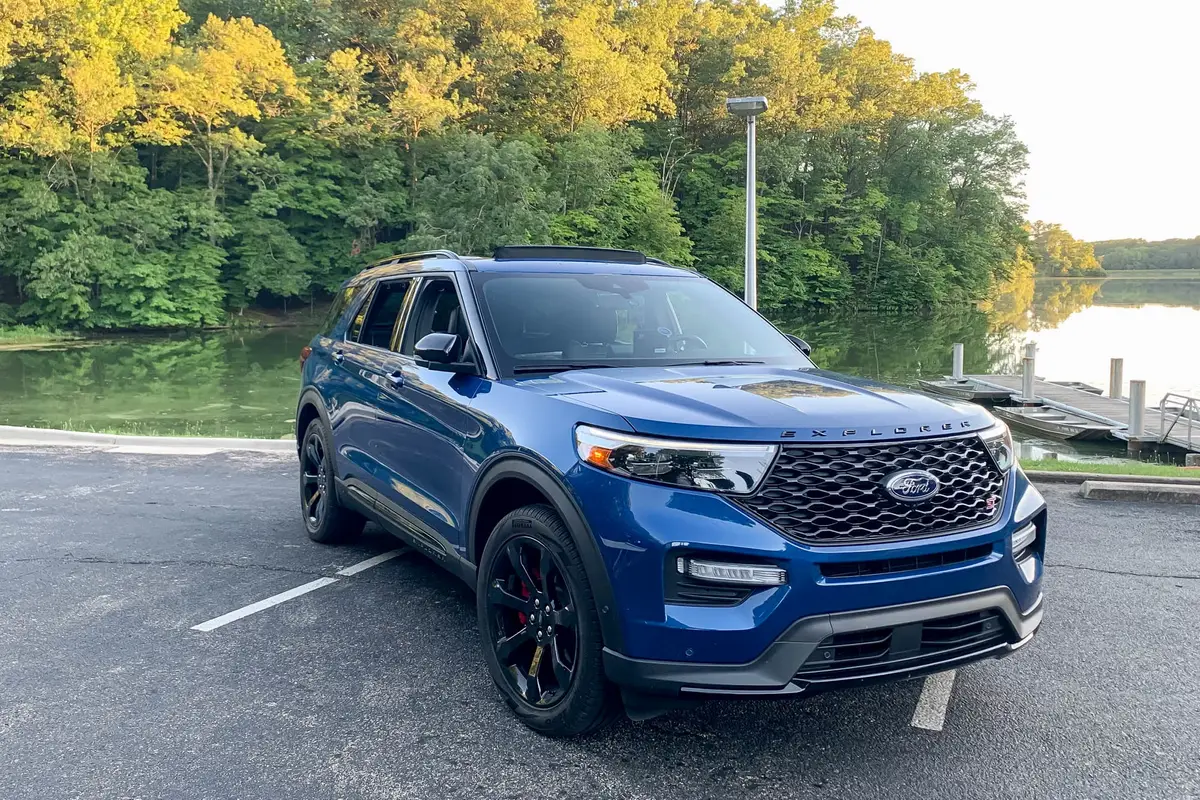 You don't need to have the expensive top spec Explorer in order to tow with one. The Class III Trailer Tow Package is available on all models of the Explorer, even on models equipped with the standard turbocharged 2.3-liter EcoBoost four-cylinder engine; it's standard on the ST and Platinum, and optional on base, XLT and Limited trims. Four-cylinder Explorers have a maximum tow rating of 5,300 pounds when properly equipped, which is pretty significant for a heavy four-cylinder SUV. Six-cylinder-equipped Explorers can go up to 5,600 pounds, or 5,000 pounds if you go for the 3.3-liter hybrid powertrain. Most crossover-style SUVs are rated in the 3,000-5,000 pound range. My test vehicle was the most powerful Explorer you can buy, but sales of the ST models have been quite robust, so there's a pretty good chance that you might already have one of these sitting in your driveway; earlier in the year, Ford said 21% of sales were STs, and, currently, 15% of new Explorers in Cars.com's national inventory are the ST trim.
Ford made one simple but critical addition to our test vehicle at our request: the installation of an electronic trailer brake controller. If you're going to be towing something big that weighs a significant portion of the maximum towing capacity of your vehicle, having the ability to activate and adjust the trailer's brakes is an absolutely essential safety item. This device allows the trailer brakes to be adjusted and manually activated if need be. The camper we had in mind weighed about 5,000 pounds loaded up with gear and supplies, so having a TBC was a no-brainer. Ford installed one down by the driver's knee, screwed into the fuse panel cover and plugged into a harness behind the steering column. It's a fairly simple installation, according to the Ford engineer who performed it, just plug and play. 
Bringing Indoors to the Outdoors
With a towing test vehicle secured, the task now was to find something properly challenging for the Explorer to drag. A camper suitable for four people was the goal, simulating a typical American nuclear family. Airstream provided something perfectly sized for the task: a new 2020 Airstream Caravel 22FB travel trailer. The trailer's aluminum construction and modern interior aesthetic complemented the up-to-date look of the Explorer, and its 22-foot length was just the right size as well. Any longer and it might be a challenge to fit into various places, and any shorter and we weren't likely to want to spend much time in it, much less a week's vacation in remote locations. I'm a delicate flower and find that the outdoors is best enjoyed when you can bring a little indoors along with you (aka: "air conditioning").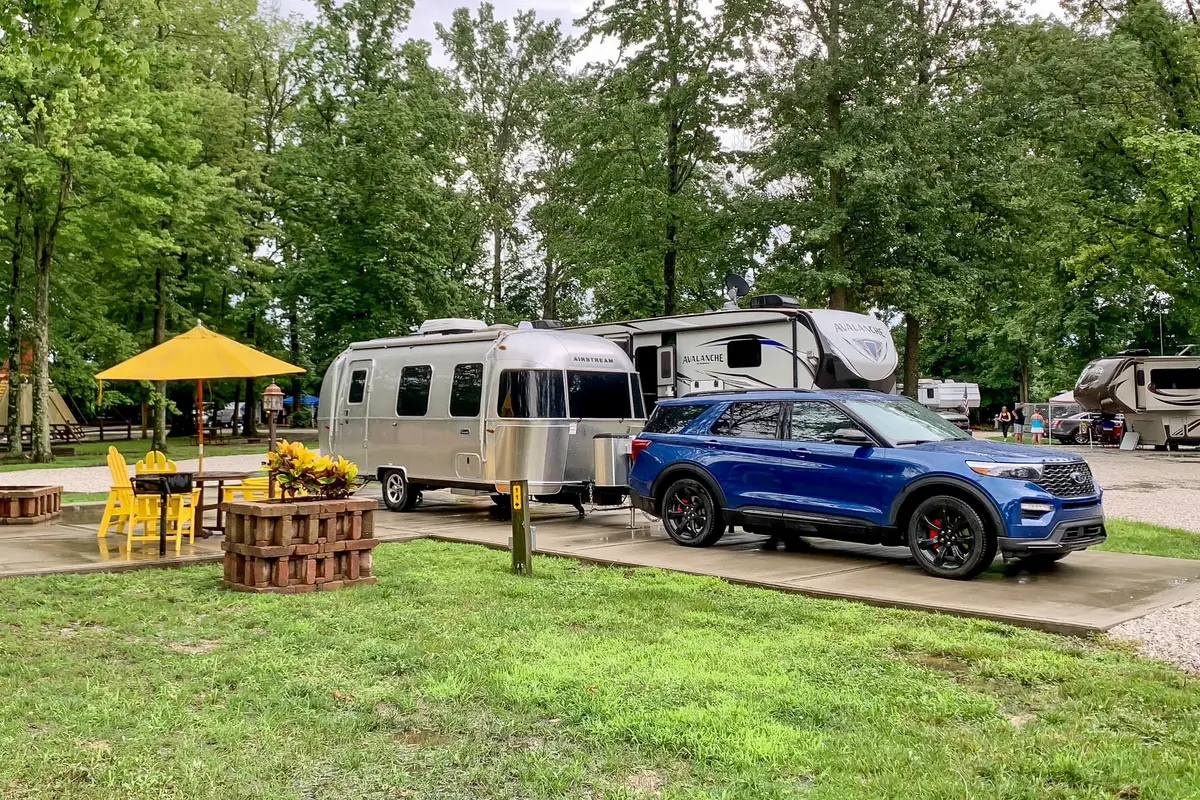 The specs on our loaned Airstream match up well with what the Explorer is rated to haul. The weight of the camper is 4,200 pounds with two 12-volt lead-acid batteries, a full load of propane gas and a tongue weight of 525 pounds. The tongue weight is the downward load the trailer puts on the hitch, and it's an important number to know when towing so that you don't overtax your towing vehicle. The Explorer ST has a maximum hitch weight rating of 560 pounds, so we were still good. If you were to fill up the Caravel's three liquid holding tanks (fresh water, gray water from your shower and sinks, and black water from the toilet), you'd fill up 70 gallons of capacity, which works out to about 583 pounds of liquid. Add in our luggage, food, pots and pans, and other sundries, and the Airstream was easily at 5,000 pounds at some time during our trip, below the Explorer ST's 5,600 pound limit, but just. The gross combined vehicle weight rating for an Explorer ST is 10,600 pounds, and if we total up the weight of the Explorer (4,701 pounds), passengers (550 pounds), gear (100 pounds) and loaded-up trailer (5,000 pounds maximum), we came in just under the rating at 10,351 pounds in total.
Pack It Up, Pack It In, Let Us Begin
Hitching up the trailer to the Explorer takes a little calculation and measurement, a little trial and error. The goal is to try and keep the squat of the Explorer's rear end to a minimum in order to keep both the towing vehicle and trailer as level as possible to maximize balance and control. It's here where a weight distribution hitch is the next piece of critical equipment. It's a special kind of hitch that adds two additional bars between the hitch and the trailer's tongue structure that distributes the weight across the tow vehicle's chassis. Without it, our Explorer dropped dramatically in the rear by well over an inch when we hooked up the Airstream. But when the weight distribution bars were engaged, it dropped just over half an inch at all four corners, resulting in a level truck and level trailer. Our hitch was a chain-style weight distribution hitch, good for leveling the load, but less good for controlling sway on the highway. Once loaded up at the Airstream factory in Jackson Center, Ohio, we headed west across Ohio, Indiana and Illinois farm country to end up at a friend's lake property in the eastern foothills of the Missouri Ozark Mountains, an hour south of St. Louis.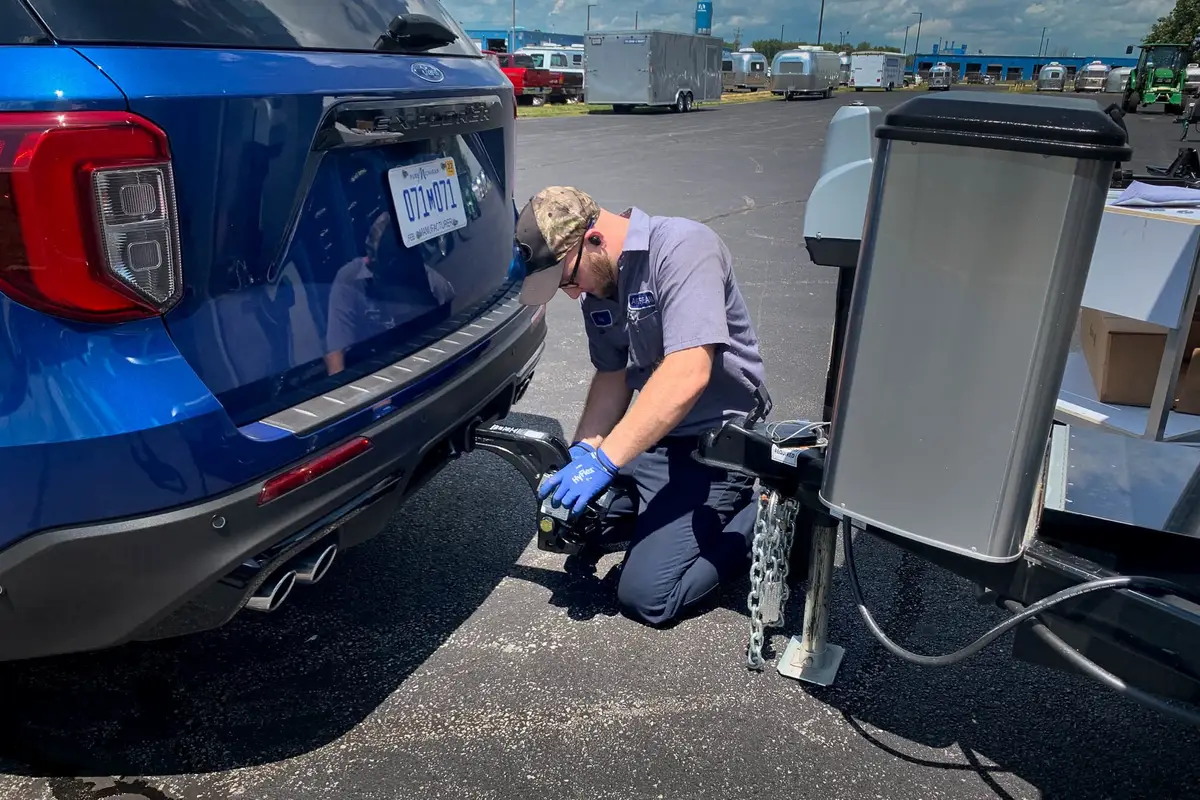 EcoBoost Overkill
The 400-hp, twin-turbocharged 3.0-liter V-6 engine is extraordinary. For such a small displacement V-6, it packs serious grunt into a teeny package. Not once did the SUV ever want for power, never did it struggle up a grade, never did it hesitate to pass slower traffic while hauling a 5,000-pound load that frankly dwarfed the smaller Explorer. Rarely did it even ever require me to put my foot to the floor. With 400 hp and 415 pounds-feet of torque on tap, and 10 forward gears to play with, the Explorer ST never once ran out of steam, even on long uphill 5-to-6% grades through the rolling hills of southeast Missouri. Passing slower traffic or tractor-trailers was a breeze, and it's that effortless passing power that makes for a much less stressful experience. The 10-speed automatic transmission was brilliant, always keeping the Explorer in its power band or very quickly putting it there, and even under load never was harsh or jarring in its shifts. With the Explorer in Tow/Haul mode, it detected when we needed engine braking and kept the Explorer in lower gears to help slow the vehicle on steep downhill declines as if by sheer intuition. I never once had to take control and manually adjust the gears via the paddle shifters — the transmission was damn near perfect in its towing duties. 
But I'd bet that the lesser 365-hp, 3.0-liter engine (380 pounds-feet of torque) available in the Explorer Platinum would be nearly as capable as the one in the ST. Heck, even if it's only 75% as capable as the ST's motor, it would still probably be more than adequate to lug around a heavy camper. 
Equipment Is Important 
So acceleration and cruising is no problem, but handling can get a little tricky, which is not necessarily the Explorer's fault. It's very stable and generally relaxed while towing a large trailer like this around town, and even stopped strongly thanks to the ST's optional oversized brakes. But out on the highway, the setup would've benefited more from a weight distribution hitch with solid shackles instead of chains. Under normal conditions, the Explorer and trailer were perfectly fine, eating up interstate miles with drama-free ease. But stormy side winds or large vehicles passing my combo would set up a slight wiggle in the trailer now and then that would very quickly grab my attention. The Explorer is equipped with a trailer-sway control algorithm as part of its electronic stability program, but that really only comes into play if you're about to get into serious trouble. It was a minor sensation when it happened, but if you plan on towing something this big and heavy with an Explorer, I recommend a bracket-style weight distribution hitch over the chain type. It's pricier, but the added inherent trailer-sway-damping peace of mind will be worth the extra cost; note that some unibody vehicles (car-based crossover SUVs that don't have a separate frame) are not compatible with a weight-distribution hitch, so check your owner's manual or contact the manufacturer. And also look for max tow ratings that are sometimes only with a weight-distribution hitch.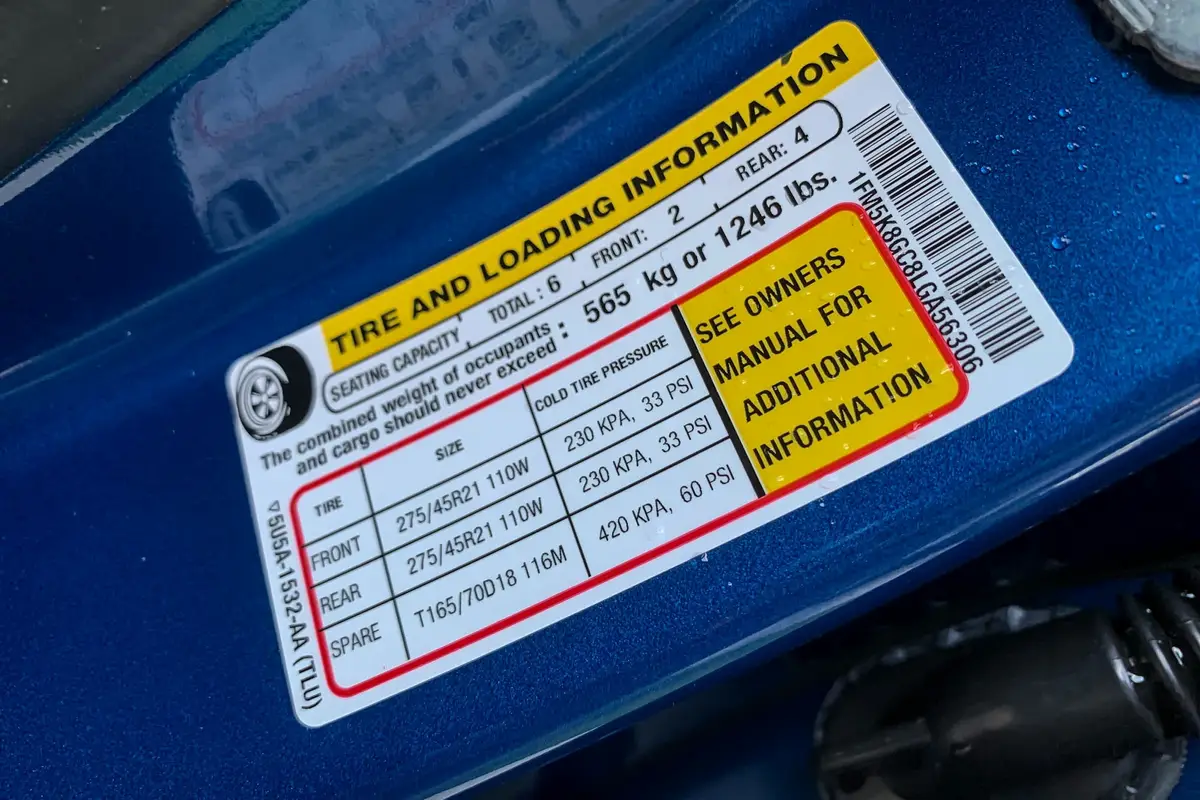 The rest of the Explorer's towing experience was beautifully uneventful, which is what you want with any towing experience. Ride quality with the Explorer's nonadjustable suspension didn't suffer much at all, despite the additional load. The ST's big 21-inch wheels and performance tires might not be the optimal choice for a towing rig, but they didn't seem to penalize the Explorer much at all for noise or soaking up bumps on bad pavement. Visibility to the rear is a challenge, however, because the Explorer's mirrors just aren't meant for towing. The Airstream is considerably wider than the Explorer, so finding some kind of auxiliary door mirrors or adding convex additions to the existing mirrors might help, but don't bother with the mirror extensions that strap onto the side-view mirrors. They don't fit securely and don't stay on due to the Explorer's mirror housing shape. Ask me how I know. 
One option to improve visibility is to install a rearview camera on your trailer, and there are plenty of aftermarket camera makers that sell such things. Just make sure you read reviews, as you tend to get what you pay for in such purchases. The Voyager WiSight camera I used was wired into the top of the Airstream and broadcasted a wireless signal to a screen mounted to the SUV's windshield. It never worked well.The camera had moisture issues, poor signal strength that never went above two bars and resolution that made figuring out what was behind you a challenge. I'd recommend a camera for such towing endeavors, maybe just not this one. 
The Explorer's own towing functions were helpful, however. When it detects a trailer has been connected, it asks you some details about the trailer, such as its length, in order to adjust the SUV's own settings for things like blind spot warning. 
What Doesn't Work So Well?
As brilliantly as the Explorer works as a tow vehicle, a week with one doing such things did reveal a few low spots in the experience. First, of course, was the gas mileage. If you guessed it wasn't going to be good hauling around something that weighs more than the Explorer itself with the aerodynamics of a giant aluminum Twinkie, you'd be right. My average for the nearly 900 miles of towing was 12.8 mpg of premium fuel, so while the Explorer can most definitely tow effectively, like other EcoBoost-equipped towing experiences we've had, it doesn't do it efficiently; it's unladen fuel economy is rated at 18/24/20 mpg city/highway/combined. I'd still make that deal, however, and pay a little more at the pump for the Explorer's effectiveness, but the SUV's rather modest 20.2-gallon fuel tank did mean that we had to stop nearly every 230 miles or so to refill it, which is sooner than I'd have liked.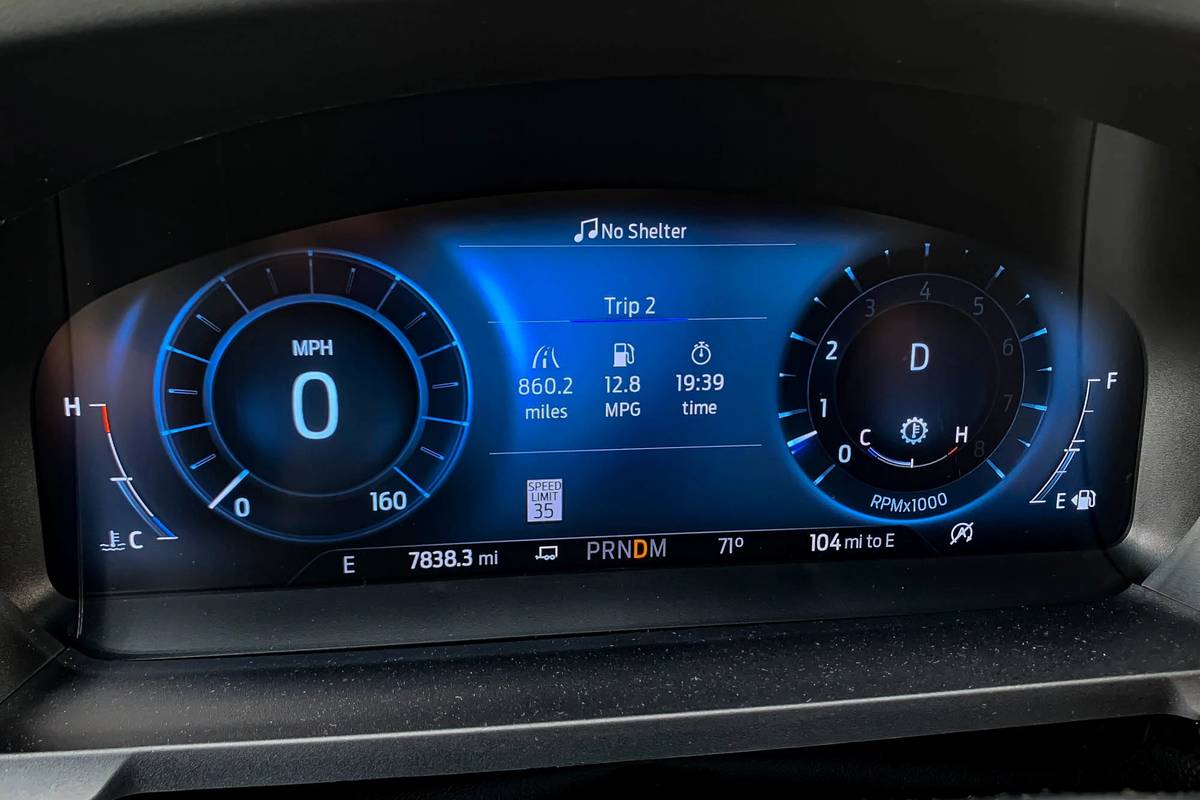 The other issues have more to do with how the Explorer is designed. Switching to Tow/Haul mode required use of the rotary drive mode selector, which isn't labeled as to where the actual drive modes are on the dial until you start turning the knob. As a result, I almost invariably turned it the wrong way when trying to find Tow/Haul, and the delay in switching between modes on the digital instrument cluster only exacerbated the annoyance. In addition to that, the enormous vertical 10.1-inch touchscreen multimedia system is not really to my liking. Unlike the huge 12-inch vertical screen available in the Ram 1500, when you use Apple CarPlay with the Ford system it results in a screen far smaller than you'd have if it was just a normal 8-inch horizontal screen. It also means the rearview camera display is also smaller than normal, making it difficult to see when trying to hook up the trailer. The big vertical screen is meant to be a cool novelty, but it's more annoying than useful in practice, and can be skipped without missing anything; it's optional on the ST, and a more traditional 8-inch touchscreen is standard.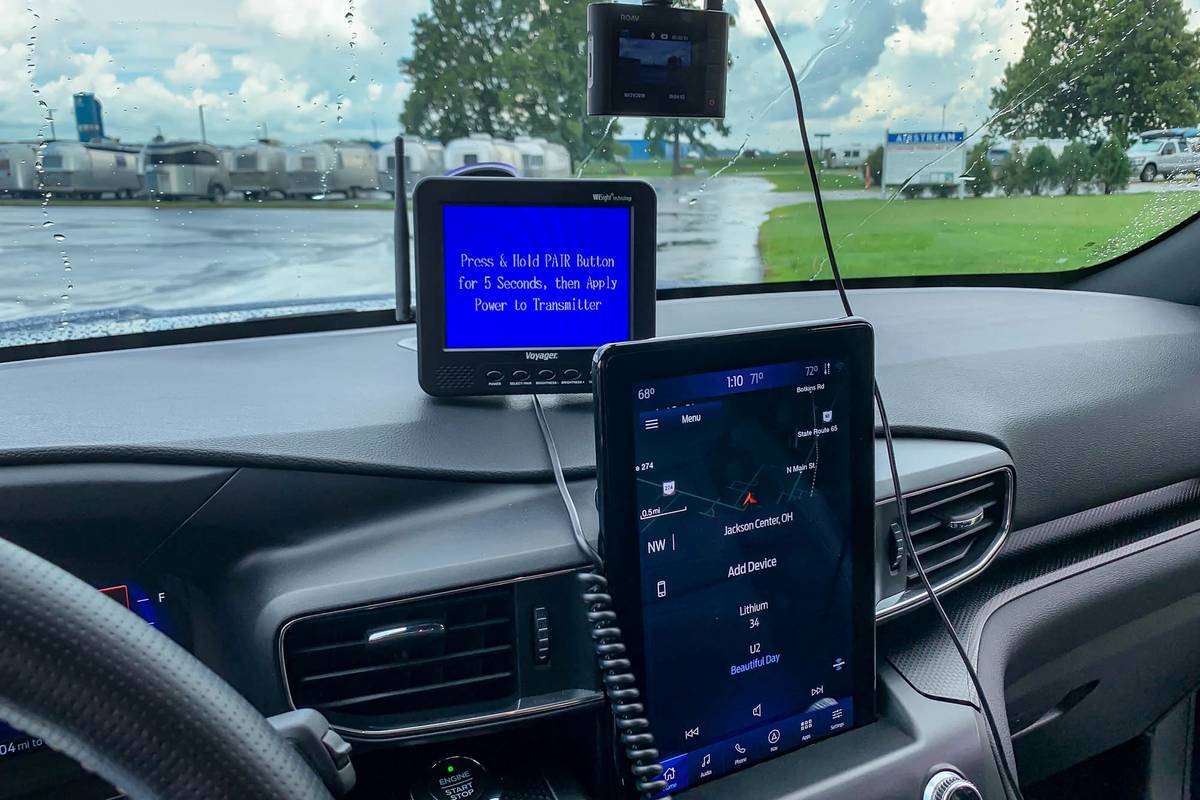 Should You Tow With One?
 If you're in the market for an Explorer ST as a tow vehicle, or already have one that you are curious about using for such things, I can heartily recommend one for such use. The power, stability and ease of use for towing a sizable camper trailer was well beyond what I'd expected from the SUV. I towed a nearly identical trailer with a diesel-powered 2016 GMC Canyon mid-size pickup truck almost exactly five years ago, and the more recent experience in the Explorer proved that the Ford was by far a better choice for such a task. So if you can find a trailer to rent or buy, the Explorer ST can handle it.
More From Cars.com: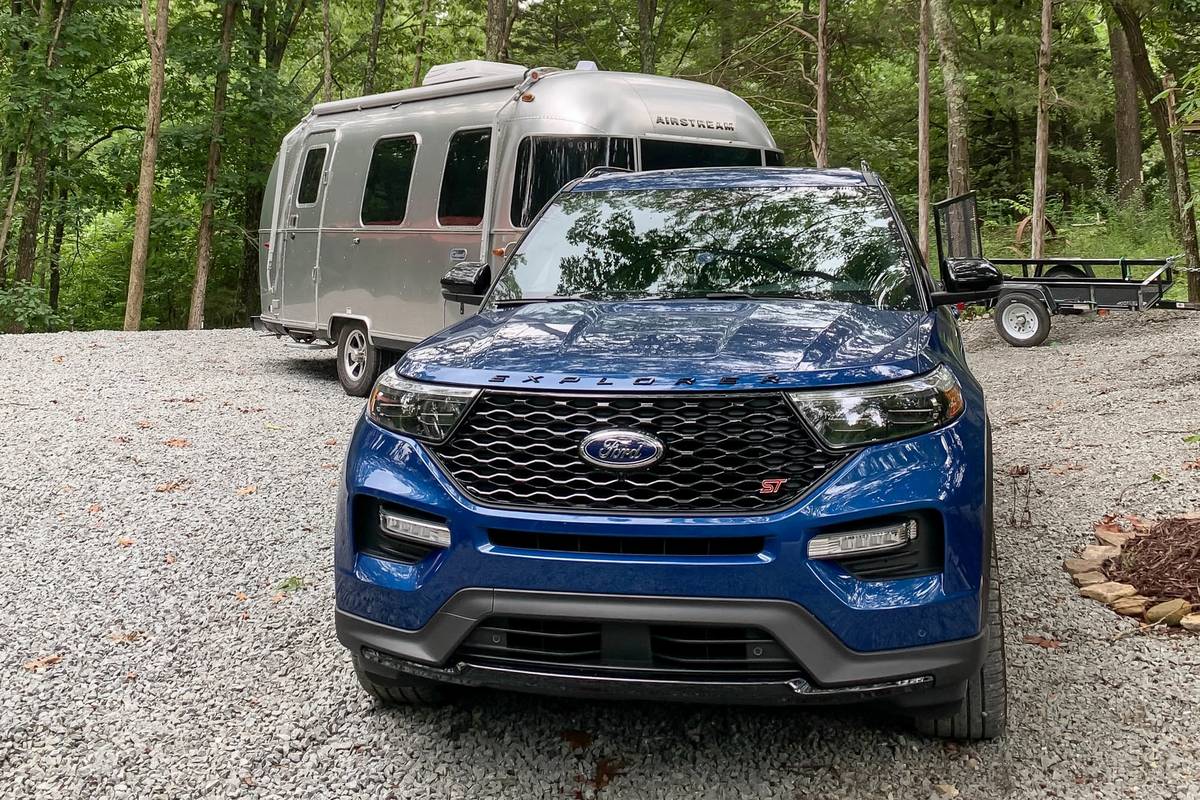 Cars.com's Editorial department is your source for automotive news and reviews. In line with Cars.com's long-standing ethics policy, editors and reviewers don't accept gifts or free trips from automakers. The Editorial department is independent of Cars.com's advertising, sales and sponsored content departments.