How Fast Is the 2017 Nissan GT-R?
CARS.COM — The 2017 Nissan GT-R has 565 horsepower, all-wheel drive and a launch control mode that pins you to the seat as it rockets the coupe from a standing stop at 4,000 rpm. Nissan prettied up the GT-R for 2017 with cosmetic and daily-drivability enhancements to make everyday driving less torturous and more touring-minded, but it's still a 565-hp sports car that's infinitely happier with the throttle cracked wide open rather than cruising at 60 mph. While plenty of street miles were logged in our 2017 GT-R test car, we also drove 70 miles north of Chicago to Great Lakes Dragaway in Union Grove, Wis., to test zero-to-60-mph and quarter-mile acceleration of Nissan's recently redesigned rocket ship.
Related: 2017 Nissan GT-R: First Impressions
Nissan's lead GT-R test engineer, Bruce Robinson, set expectations by informing us that quarter-mile times should be in the low 11-second range using launch control and zero-to-60 mph in less than three seconds if using a one-foot rollout method. Cars.com only uses one-foot rollout for quarter-mile times and not zero-to-60 mph, so we expected to be a few tenths slower to 60 mph; all testing is measured using a Racelogic Vbox II GPS data recorder. A sub-three-second zero-to-60-mph time puts the GT-R's acceleration in the company of cars like the Porsche 911 Turbo, Tesla Model S P100D and Chevrolet Corvette Z06.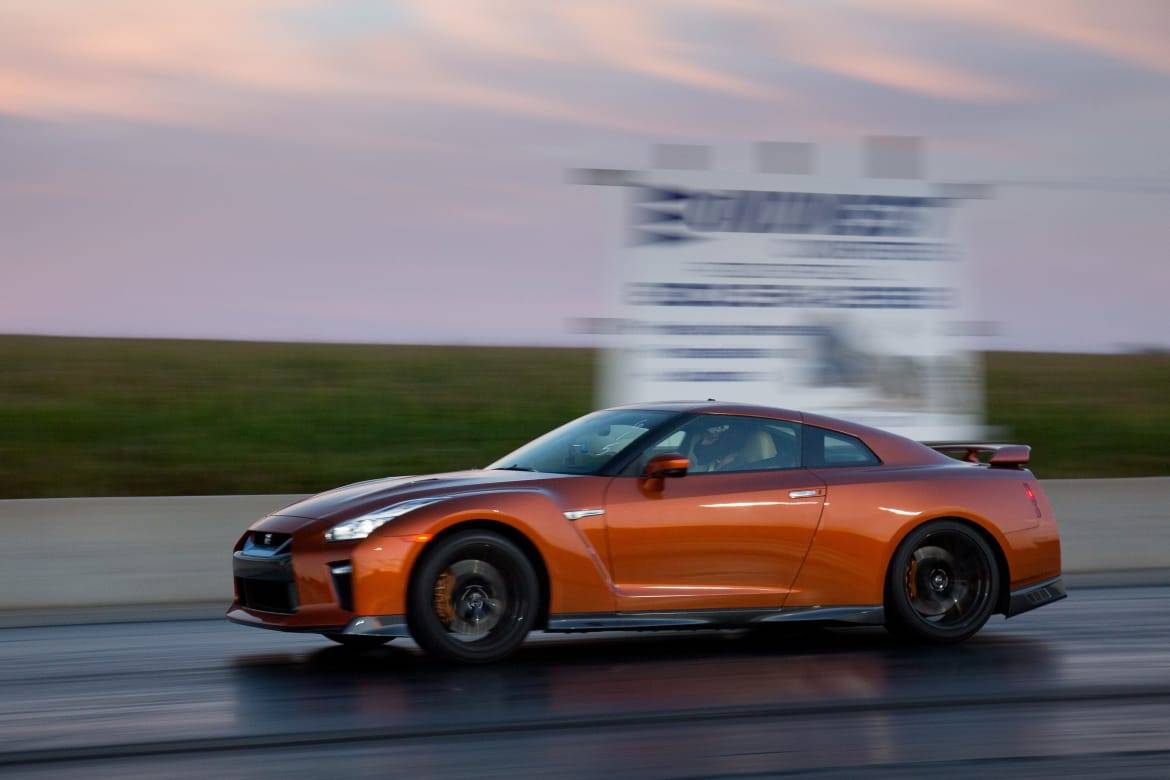 The first pass at Great Lakes Dragaway was a "Hi, let's get to know each other" pass without launch control, and it was a snoozer. Power from the twin-turbo V-6 builds painfully slowly off the line without launch control even in the most aggressive drive mode settings and the 12.3-second quarter-mile at 120.3 mph was uneventful; zero-to-60 mph came in at an equally laid-back 4.5 seconds. The 3.8-liter's 565 hp and 467 pounds-feet of torque are surprisingly absent from the get-go. While not directly comparable because of track differences, weather and altitude — Cars.com doesn't apply weather correction factors — a 2016 Chevrolet Camaro SS Cars.com tested earlier in the year ran similar quarter-mile and zero-to-60-mph times (12.3 seconds at 114.3 mph and 4.3 seconds to 60 mph).
Then we engaged the Nissan GT-R's game changer: launch control. It's technically referred to as "R Mode Start" in the owner's manual and "launch control" is the general term. To engage it, flip the transmission and vehicle dynamic control systems to "R Mode," then fully depress the brake and accelerator at the same time. At this point, the car remains stationary but the engine revs to around 4,000 rpm for three seconds. Within those three seconds, you then release the brake but keep the accelerator pinned — The GT-R launches a hundred times more aggressively than without the feature. And, boy, does it make a difference when that turbo engine gets a head start.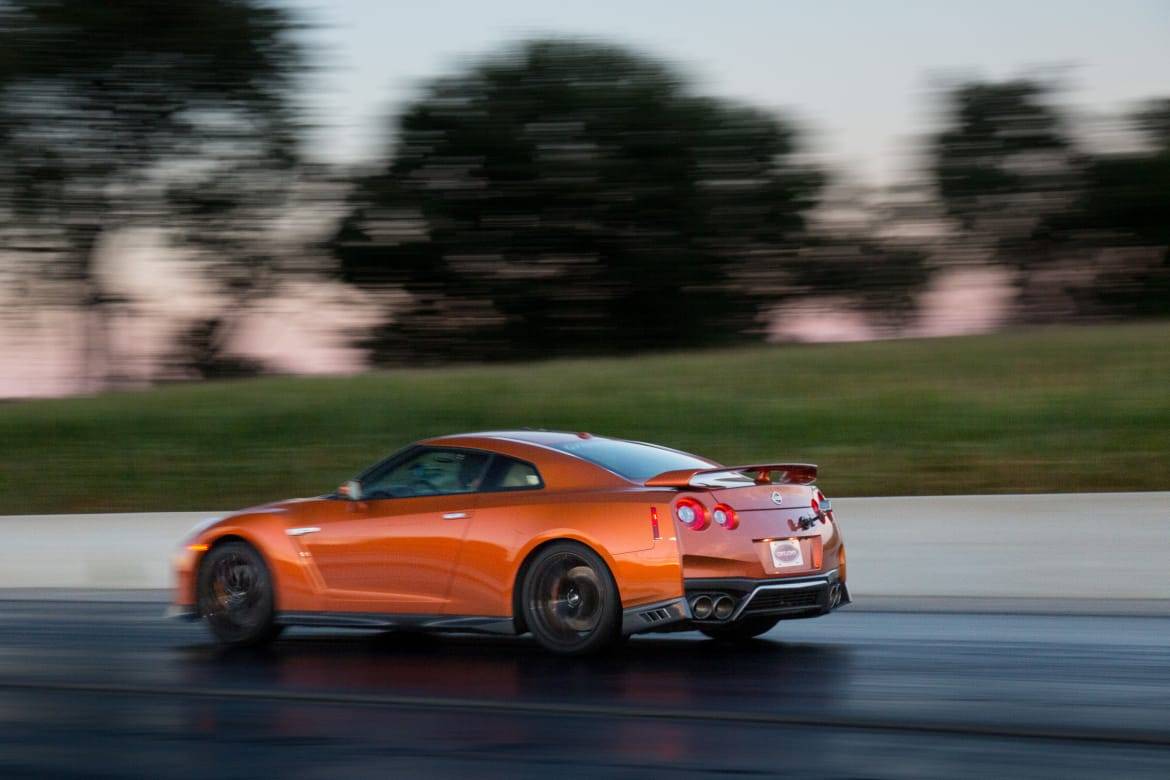 Acceleration times dropped a full second to 11.3 seconds in the quarter-mile and zero-to-60 mph was 3.3 seconds with the aggressive launch; speed increased slightly to 121.7 mph. Nissan's Robinson said a hint of rear spin produces the GT-R's best times and that the traction compound a drag strip uses could bog the car from a stop. Bogging was a non-issue and we consistently ran in the 11.3-11.4-second range. That's all the car had that night considering I had little room to play with launch technique because launch control isn't adjustable and the car's mechanics and electronics do all the hard work.  
Robinson says the 2017 Nissan GT-R's quarter-mile and zero-to-60-mph times aren't appreciably faster with the 20-hp increase or chassis changes. A low 11-second quarter-mile and zero-to-60 mph in little more than three seconds is still fast enough to make you forget about everything else Nissan did to the car for 2017. Mainly because I don't think they changed enough for everyday refinement, but it's also a good thing the GT-R remains a thrill ride.
Check out the gallery below, and the 2017 Nissan GT-R review video above to see launch control in action during our quarter-mile testing. For 2018, the Nissan GT-R isn't significantly changed but does include a less expensive model called the GT-R Pure, which saves a cool $10,500 compared with the GT-R Premium model that in 2017 is the entry-level GT-R. 
Cars.com's Editorial department is your source for automotive news and reviews. In line with Cars.com's long-standing ethics policy, editors and reviewers don't accept gifts or free trips from automakers. The Editorial department is independent of Cars.com's advertising, sales and sponsored content departments.