Daily News Briefs: July 6, 2012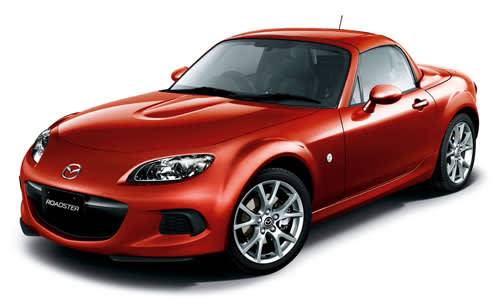 Mazda posted details about an extensive midcycle refresh for its Japanese-marketed 2013 Mazda Roadster (shown above) — known here as the MX-5 Miata — on its Google+ page. Updates include a new front bumper, grille, fog lamps and chin spoiler. Mechanically, the Mazda Roadster's reworked internal wiring and new 17-inch aluminum wheels help to decrease its overall weight; it weighs in at roughly 2,500 pounds today. Other additions include enhanced barking control and a more responsive throttle, says Mazda. We expect most of the changes to come to the 2013 Mazda MX-5 Miata, too.
In other news:
Fiat unveiled a prototype of a new crossover version of its Fiat 500 — called the Fiat 500X — according to the Detroit Free Press. The model will compete against the Mini Countryman and be built alongside a new Jeep compact crossover based off the same platform.
President Barack Obama is challenging Chinese tariffs on vehicles imported from the U.S., says the Detroit Free Press. China imposed tariffs on U.S.-made SUVs and luxury cars last year over trade dumping allegations. Around 20,000 Chrysler vehicles and 14,000 GM vehicles are estimated to be affected by the tariffs.
Ford released more 2013 Ford C-Max fuel-economy information, saying the model would get 44 mpg on the highway. With the city mpg information already at hand, the C-Max will get 47/44 mpg city/highway, which bests its main competitor: the Toyota Prius v and its 44/40 mpg.
Related
More Industry News 
See More Mazda News 
More Automotive News