Cars.com 2020 American-Made Index: What About the Least American Cars?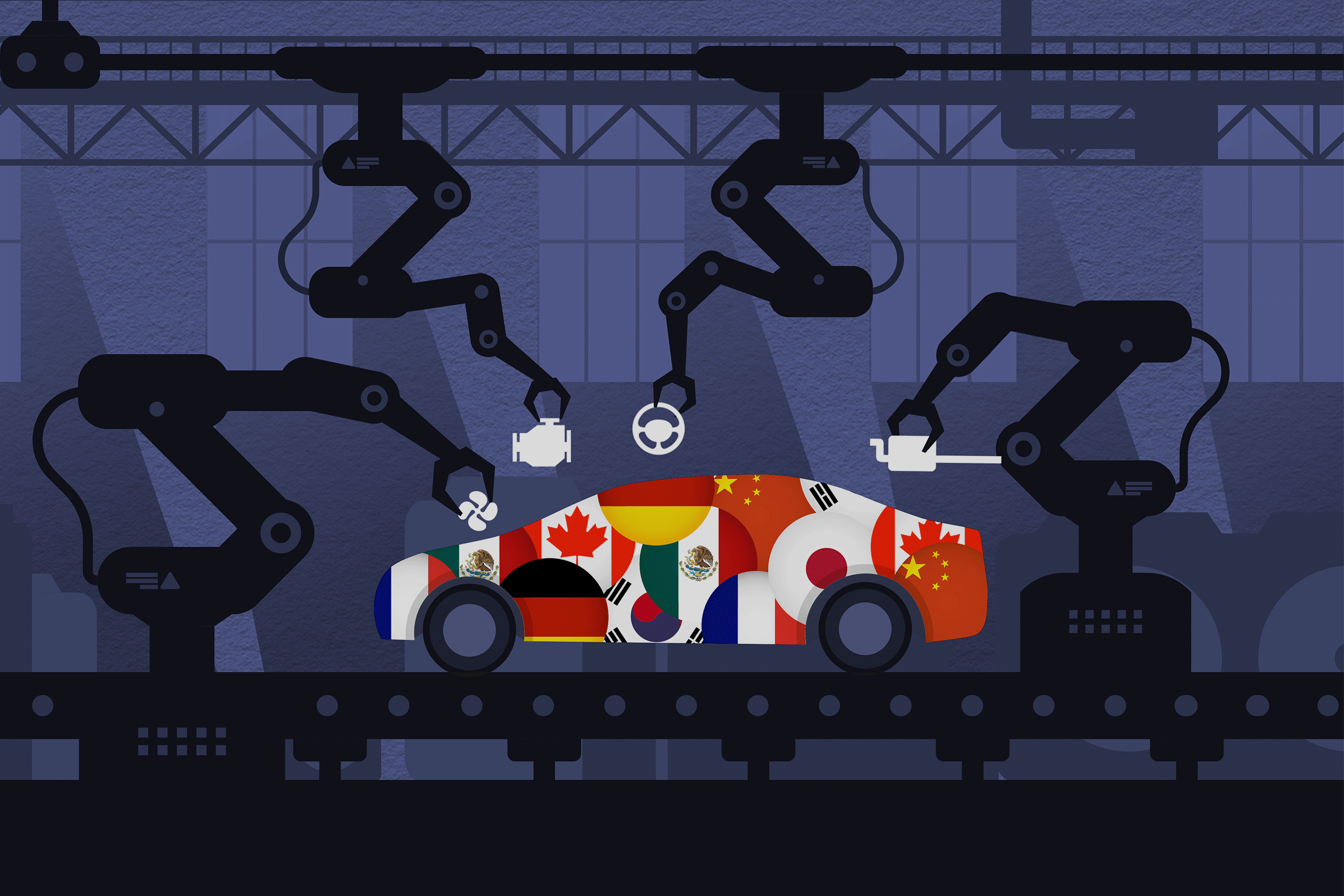 Cars.com's 2020 American-Made Index ranks vehicles built and bought in the U.S., as determined by a range of economic factors. Having named, at most, the 15 most American cars annually since the AMI's inception in 2006, Cars.com has vastly expanded its scope for 2020: Now in its 15th year, the index ranks all qualifying models assembled in the  U.S..
Related: Cars.com's 2020 American-Made Index: Which Cars Are Most American?
Ninety-one such light-duty vehicles are ranked, but it's important to note that even the 91st nameplate, the Toyota RAV4 Hybrid, is still more American-made by our standards than the hundreds of models whose final assembly occurs outside the country, regardless of what brand they bear. Accounting for nearly half of all light-duty vehicles sold in the U.S., nearly 250 imported nameplates exist for 2020, hailing from as near as Canada and as far as India. Any car fully imported is disqualified from AMI rankings, and we make no distinctions among that group for what's least American. The group includes entire lineups from brands like Jaguar, Land Rover and Mazda that import every car they sell, but it also includes cars from brands closer to home.
Unlikely Examples
We don't rank which models are the least American-made, but here are a few examples to illustrate how unlikely the less American-made cars can be, based on data from automakers and the National Highway Traffic Safety Administration:
GM has six of the top 20 cars on the AMI, but its Buick division — a Detroit-area brand nearly 120 years old — imports three of its four SUVs from Asia. The Envision comes from China, while the Encore and Encore GX come from South Korea; all three have U.S. and Canadian parts content of less than 5%.
Toyota's Texas-built Tundra ranks No. 16 on the AMI, but the Japanese automaker still imports cars like the Prius hybrid and 4Runner SUV from Japan. Both have 0% U.S. and Canadian content. Imported, too, are the vast majority of cars from Toyota's Lexus division.
Ford has the No. 1 car for 2020 in the Ranger, but some Blue Oval nameplates hail from distant shores. The Transit Connect van is assembled in Spain, for example, while the EcoSport SUV comes from India.
Automakers ship plenty of cars from a world away, but most imports come from closer to home. Data compiled by the International Trade Administration found Canada and Mexico accounted for just over half of all passenger vehicles and light trucks imported to the U.S. in 2019, which is more than all other countries combined. Some examples for the 2020 model year? Try the Ford Edge (Canada) and soon-to-be-retired Fusion (Mexico); Chrysler's 300 and Pacifica (both Canada); Dodge Challenger and Charger (both Canada); Honda Fit and HR-V (both Mexico); and Ram HD (Mexico).
Ranking U.S. Production by Automaker
Just over half the cars bought here are assembled here, but the ratio varies considerably by automaker. Cars.com analyzed vehicle identification number data for retail sales in the first quarter of 2020. Below is our estimate of how many passenger vehicles each major automaker sold in the U.S. that were also built here. Keep in mind that automakers include all brands, such as luxury marques, therein:
Tesla: 100.0%
Ford: 79.9%
Honda: 67.2%
Fiat Chrysler Automobiles: 61.2%
Industry average: 51.0%
Subaru: 50.1%
GM: 48.4%
BMW: 47.7%
Renault-Nissan-Mitsubishi: 46.1%
Toyota: 43.9%
Hyundai-Kia: 37.8%
Daimler (Mercedes-Benz): 30.6%
Volkswagen Group: 15.0%
Geely (Volvo): 13.1%
Jaguar Land Rover: 0%
Mazda: 0%
Imported Cars Still Support Jobs
Of course, even fully imported cars still support U.S. jobs. Some 830,000 Americans were employed building passenger vehicles and their parts in February 2020, by the Bureau of Labor Statistics' tally. But cars built abroad still support the largest piece of the pie when it comes to automotive employment: dealerships. New- and used-car dealers collectively employed another 1.3 million Americans in February, according to BLS data. Meanwhile, tire and auto-parts stores employed nearly 600,000, while facilities that fix or wash your car employed nearly 1 million more. 
Clearly, buying and owning a vehicle supports a good deal of jobs. So why does the AMI fixate on cars with the most homegrown credentials? Because they support the entire chain, from assembling parts on new cars to repairing vehicles in circulation. With unemployment spiking well into the double digits amid the COVID-19 pandemic and related restrictions to travel and business, some shoppers might find that more important than ever.
More From Cars.com:
Cars.com's Editorial department is your source for automotive news and reviews. In line with Cars.com's long-standing ethics policy, editors and reviewers don't accept gifts or free trips from automakers. The Editorial department is independent of Cars.com's advertising, sales and sponsored content departments.