2021 Jaguar F-Type R AWD Coupe Review: New Style, New Tech, Same Sexiness
The verdict: Jaguar's updated 2021 F-Type R is even better-looking than before, and it delivers a winning mix of luxurious comfort, sports car performance and knockout style.
Versus the competition: It's less expensive but no less capable than rivals like the Porsche 911 and Mercedes-AMG GT, and it maintains its own traditional feline styling; the new Chevrolet Corvette, however poses a value and performance challenge to the Jaguar — as it does to every other sports car on the market.
Ask any auto enthusiast what the best all-around sports car in the world is, and there's a good chance you'll hear the Porsche 911. For decades, the 911 has been the global benchmark for enthusiasts looking for a precision driving experience. But what do you buy if you're looking for a sports car that's a little different than that, one that's still rewarding but maybe has a bit more passion to its styling, a bit more rarity to its presence, one you don't see a dozen of at track days?
Might I suggest the 2021 Jaguar F-Type? It ticks all the boxes a 911 does — rear- or all-wheel drive, two doors, two seats, coupe or convertible, powerful engine — and throws in something the 911 has typically left as an afterthought: an absolutely gorgeous body. For 2021, Jaguar has updated that body and a few other notable features, so we took one for a weeklong spin to see if the F-Type really is a suitable alternative to the comparatively ubiquitous Porsche 911.
Related: 2021 Jaguar F-Type Video: A Cat Changes Its Stripes (a Little)
Despite the fact that the Jaguar brand isn't one of the higher-selling nameplates in the world of luxury automobiles, it still commands a certain respect and cachet. Its historical mystique is powerful, allowing the brand to draw on decades of racing success, style leadership, technological innovation and a reputation for "glamour." That's why people will mob you when you show up anywhere in a Sorrento Yellow Ultra Metallic F-Type R coupe like the one I drove, whether you're rumbling your way into a gas station, a drive-thru window or your local cars 'n' coffee gathering. And why wouldn't they? There's a lot in this new F-Type to love, and it all starts with that sensuous bodywork.
Few Cars Look Sexier
It looks a little different for 2021: Jaguar has redone the front end to give it a lower, wider, more horizontal look. Gone are the tall headlights stretching up into the fenders, replaced by slim cat-eye lenses that bring the F-Type more in line with the styling of Jaguar's sedans. The sculpted fenders are still present, as are the muscular rear haunches evoking the whole feline image of the F-Type, first started when the stunning Jaguar E-Type appeared on the market nearly 60 years ago. New taillights adorn the rear, featuring the LED "chicane" signature Jaguar uses on the I-Pace electric car. The new headlights and grille, combined with a curvaceous rear, looks for all the world like the new Ferrari Roma — so if the valet brings you the wrong car after dinner at your fancy local steakhouse, you'll know why.
Maybe it was the searing yellow paint, but my week in the F-Type turned far more heads than the last Porsche 911 I drove. Perhaps the Porsche's relative styling anonymity appeals more to those looking to please themselves, while the Jag's buyer places as much emphasis on style as substance.
Keep It in R Mode
But what kind of substance is the F-Type packing? There's a selection of powertrains to choose among, ranging from a spunky 296-horsepower, turbocharged four-cylinder and 380-hp, supercharged V-6 to what powers the R: a 575-hp, supercharged 5.0-liter V-8. It's mated to a standard eight-speed automatic transmission that powers all four wheels; all-wheel drive is standard on all models except the four-cylinder. The R trim I tested brought all sorts of hopped-up parts to the party in addition to that bigger engine that now makes 25 more hp and 14 more pounds-feet of torque than it did for 2020. 
Jaguar says this engine is good for a 0-60 time of just 3.5 seconds — and I believe them, given how often I enjoyed exploring the engine's power. The car features something Jag calls Intelligent Driveline Dynamics control technology, which integrates things like the AWD's torque distribution, dynamic stability control software, continuously variable electronic dampers, brake-based torque vectoring and revised electronic steering to adjust the F-Type R's various driving characteristics.
Kept in its normal mode, this big cat is rather relaxed, playing the role of a sedate grand touring coupe with a burbling exhaust note and calmer shifts that allow for brisk but not overpowering acceleration. I did find the steering to be oddly sloppy in normal mode, constantly requiring corrections at highway speeds as I wandered all over my lane. The calibration of the steering in normal mode is simply too loose and overboosted; it requires less effort but also means the driver feels less control. A quick and simple remedy for that is to simply flick the mode selector into R mode, which transforms the F-Type into a much more sporty-feeling coupe with far more precise steering feel and control, plus ride quality that's firmer but not at all punishing.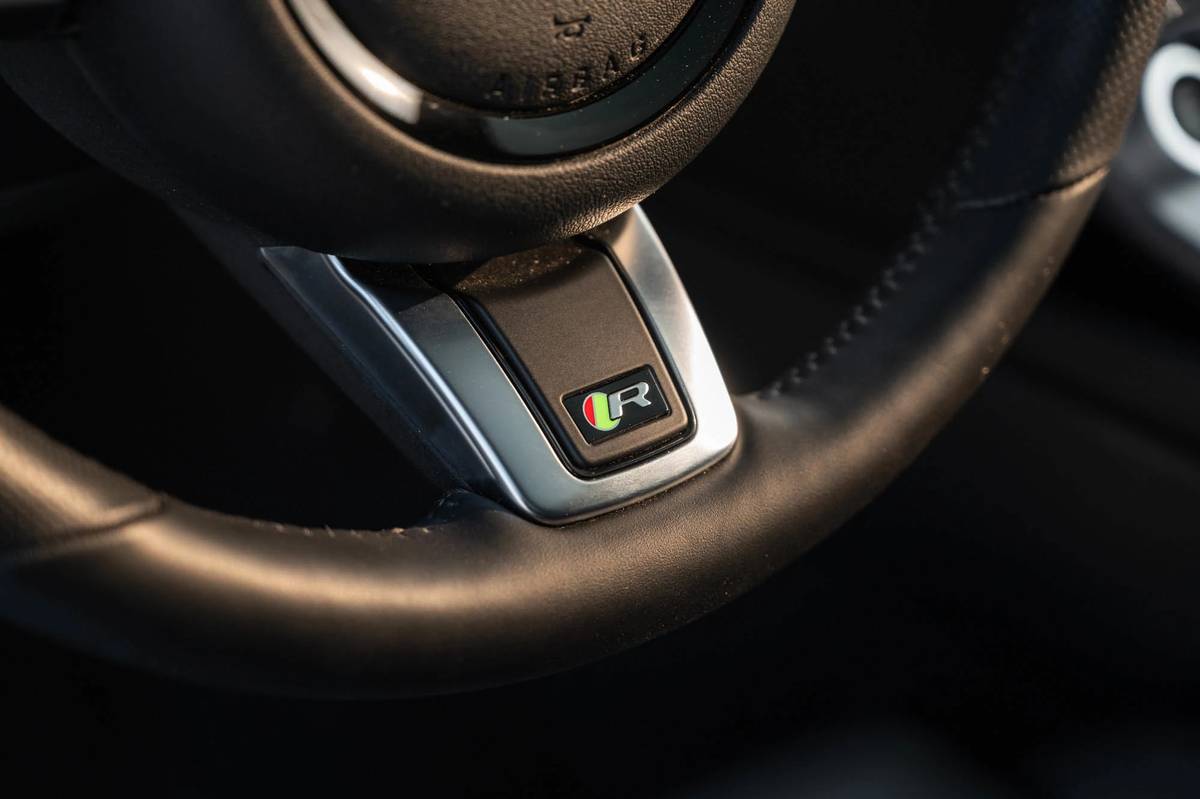 This is the setting that wakes the F-Type up and makes you think it's a suitable rival for the 911. Acceleration is explosive, accompanied by a glorious roar from the adjustable exhaust and a screaming whine from the supercharger. Attacking your favorite twisty road in this car is a joy, as all its electronic systems come together with newly revised springs and anti-roll bars to create a truly enjoyable sports car experience. Grip is tremendous thanks to staggered-size Pirelli P Zero tires that are 10 millimeters wider than the old tires, wrapping beautiful matte-gray 20-inch wheels. The car's R mode can also be customized, which is what I did: Keeping the steering in its most aggressive stance but allowing "normal" operation of the suspension and powertrain created an all-around sporty yet compliant sports coupe that was a joy to drive. You just have to remember to switch on the configuration whenever you start the car, which really isn't much of a burden.
Beautifully Finished Interior
So it's got style, it's got substance — but how's that interior? Jaguar has been something of a mixed bag in that department as of late, sometimes lacking materials quality, usable technology and sensible controls. The F-Type's interior hasn't changed much for 2021, but there are a few new features of note. First of all, the materials quality is top-notch these days. The R model has beautiful quilted Windsor leather performance seats, high-quality plastics, real metal trim and some new display technologies for 2021. A new, fully digital 12.3-inch instrument cluster is standard and can be reconfigured several ways, even allowing for a full navigation map if desired. It also changes when you change driving modes, with different schemes that can be linked to different modes.
The multimedia system is the latest version of the Jaguar/Land Rover Touch Pro system, displayed on an easy-to-reach 10-inch screen. It feels faster than it has, with quicker changes between screens and a more intuitive layout — but still no ability to engage a "beep" confirmation sound when you touch the screen. Apple CarPlay and Android Auto are standard, or you can use Jaguar's native apps for controlling your personal electronic device. There's still some interior quirkiness with the Jag, however, such as central climate control vents that rise up from a hidden position whenever the dash vents are engaged. My immediate thought regarding these (and the exterior door handles that pop out from their flush position when you unlock the car) was: "Oh, well, these are going to break eventually."
Electronically actuated climate vents are an unnecessary gimmick in what is otherwise a beautifully finished but unremarkably styled interior. There's more artistry and comfort in here than you'll find in a Porsche 911, with more luxurious materials, as well, but the 911's rear-engine layout also makes for better forward visibility than you get in the F-Type. Of course, there is something to be said for gazing out over the Jaguar's shapely hood, knowing it covers the beating heart of a true powerhouse of an engine.
The seats are appropriately sized and comfortable, perfectly adjustable and covered in some truly nice leather in higher trims. There's plenty of headroom in the F-Type, even with the glass roof panel; it's a fixed panoramic roof, not an openable moonroof, but it at least has an opaque sliding cover, not a translucent screen like some cars have. I would have preferred an interior in a color other than black — but then, choosing a Sorrento Yellow F-Type with the Mars Red leather option would make it look like Ronald McDonald's staff car. (Tan and Light Oyster are also options.) The coupe's trunk is not big; you'll be able to stuff a roll-aboard suitcase or a couple of soft-sided duffels in there, but the ubiquitous golf bag might be a stretch — and you can forget about a full-size suitcase.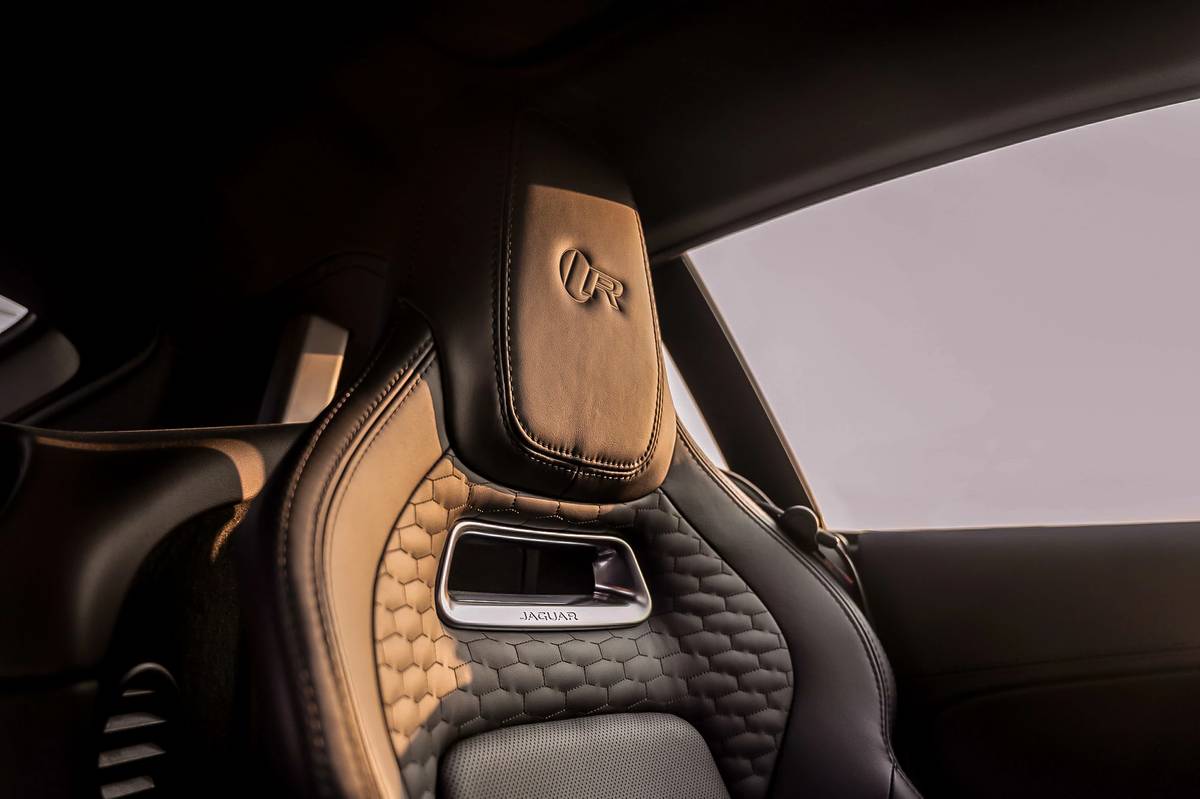 Not the Most Expensive Cat on the Block
As befits a luxury brand's sports coupe, the F-Type doesn't come cheap — even the basic four-cylinder model. The cheapest F-Type rings in at $62,750 (all prices include destination). The V-8-powered F-Type R starts at a whopping $104,350, to which my test car added $4,550 for its special yellow paint, $1,175 for the fixed panoramic glass roof, $1,125 for a climate pack, $1,100 for 20-inch wheels, and a host of smaller options, bringing the grand total to $115,135. If you go nuts and specify every option possible on a convertible F-Type R, you can easily top $137,000 — more than twice as much as a base F-Type coupe costs. 
This is par for the course in this class. The cheapest 911 starts at $100,550, and it only goes north from there (rapidly). Lower trim levels of the Jaguar F-Type match up more favorably in price to cheaper Porsches, like the 718 Cayman coupe and Boxster convertible, but once you get into V-8 F-Type R territory, the 911 is a better matchup. Mercedes-AMG's GT coupe starts at $116,895 but easily matches the Jag in style, cachet and sheer outrageousness. And of course, we'd be remiss in not mentioning the sports car bargain of the century: the newest Chevrolet Corvette, a mid-engine C8 Stingray. It significantly undercuts every other player in price, yet still brings an astonishing mix of supercar styling, everyday usability, available luxury trimmings and trackable fun to the party.
The changes Jaguar made to the 2021 F-Type have only furthered the coupe's desirability in my opinion, enhancing its style and presence while maintaining excellent sporting performance chops and providing an eminently viable alternative to the Porsche 911.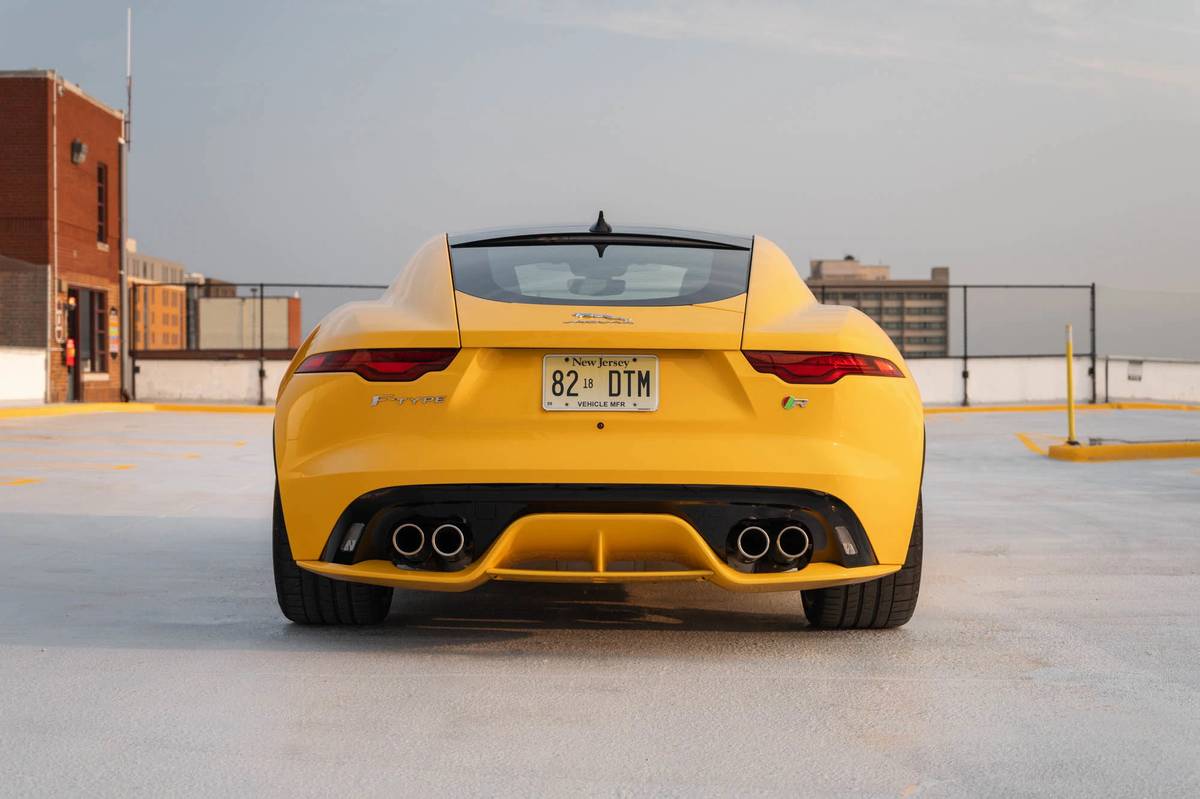 Cars.com's Editorial department is your source for automotive news and reviews. In line with Cars.com's long-standing ethics policy, editors and reviewers don't accept gifts or free trips from automakers. The Editorial department is independent of Cars.com's advertising, sales and sponsored content departments.