NEWS
2021 Ford Mustang Mach-E: 'Electric Mustang SUV' Is Not a Typo
By Brian Wong
November 17, 2019
Competes with: Audi E-Tron, Jaguar I-Pace, Tesla Model Y
Looks like: Though Mustang elements are present, the SUV has quite a different aesthetic and a sweeping roofline reminiscent of the BMW X6.
Powertrain: Rear- or all-wheel drive; estimated electric motor output from 255 to 459 horsepower; torque from 306 to 612 pounds-feet; estimated range 210-300 miles
Hits dealerships: Premium and First Edition models in late 2020; Select and California Route 1 models in early 2021; GT in the spring of 2021
The 2019 Los Angeles Auto Show gives us a look at Ford's electrified future with the introduction of the 2021 Mustang Mach-E, a brand-new electric SUV. We'll have to wait a bit for the SUV to hit dealerships because the first models won't start rolling out until late 2020 and the exciting GT won't arrive until the spring of 2021, but it seems as though it will be worth the wait from the details that have been announced.
Related: More 2019 L.A. Auto Show Coverage
It's an interesting move to attach the Mustang name to an SUV, let alone an electric one. There are Mustang elements in its design, from the headlights and taillights to the unmistakable pony badges found front and rear. But in nearly every other way, this vehicle seems to zig where the Mustang zags, and that's probably for the better given the difference in aims between a gas-powered sports car and an SUV (even a performance-oriented one).
The Mustang Mach-E will be offered in six trims: Select, Premium, First Edition, California Route 1, GT and GT Performance Edition. The First Edition will be offered at launch in limited numbers, while the California Route 1 will be a special edition with its own exterior cues.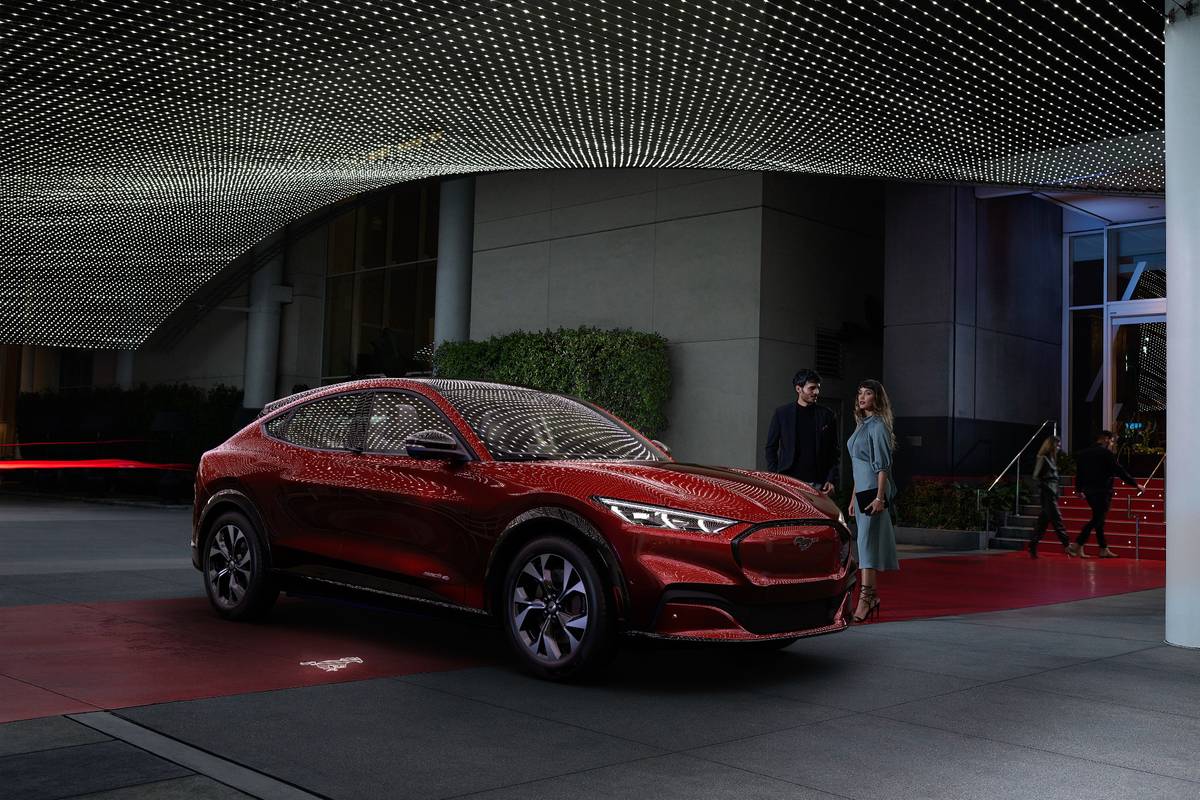 Exterior
The Mustang Mach-E's profile fools you, as a quick glance suggests a roofline that dips down sharply as it moves rearward, giving more of a fastback look (a la the BMW X6). But above that, you'll notice the top of the roof is painted black, which thankfully allows for more backseat headroom than it seems at first glance. Look closer at the sides, and you'll also notice the doors lack door handles — to get in, you press a button that's hidden in the pillar that pops the door open just enough for you to slide a hand in and grab it.
Up front, the tri-bar front headlights are pure Mustang and flank the "grille," which is really a solid piece of bodywork that features a slight offset from the rest of the front to give it more of a conventional appearance. It's body-colored on most models, but the GT has a textured appearance (though it's still solid and smooth to the touch). The rear also gets more Mustang design elements, with tri-bar taillights and sequential turn signals.
Interior
The overall look of the five-seat interior screams minimalism, as there aren't many physical controls to be found anywhere and the majority of inputs come via the large, 15.5-inch vertically oriented touchscreen that dominates the dashboard. Taking up a part of the lower portion of the screen is a physical volume knob that shows the current volume level in the middle; it's surrounded by various constantly displayed climate controls while the rest of the screen can be modified.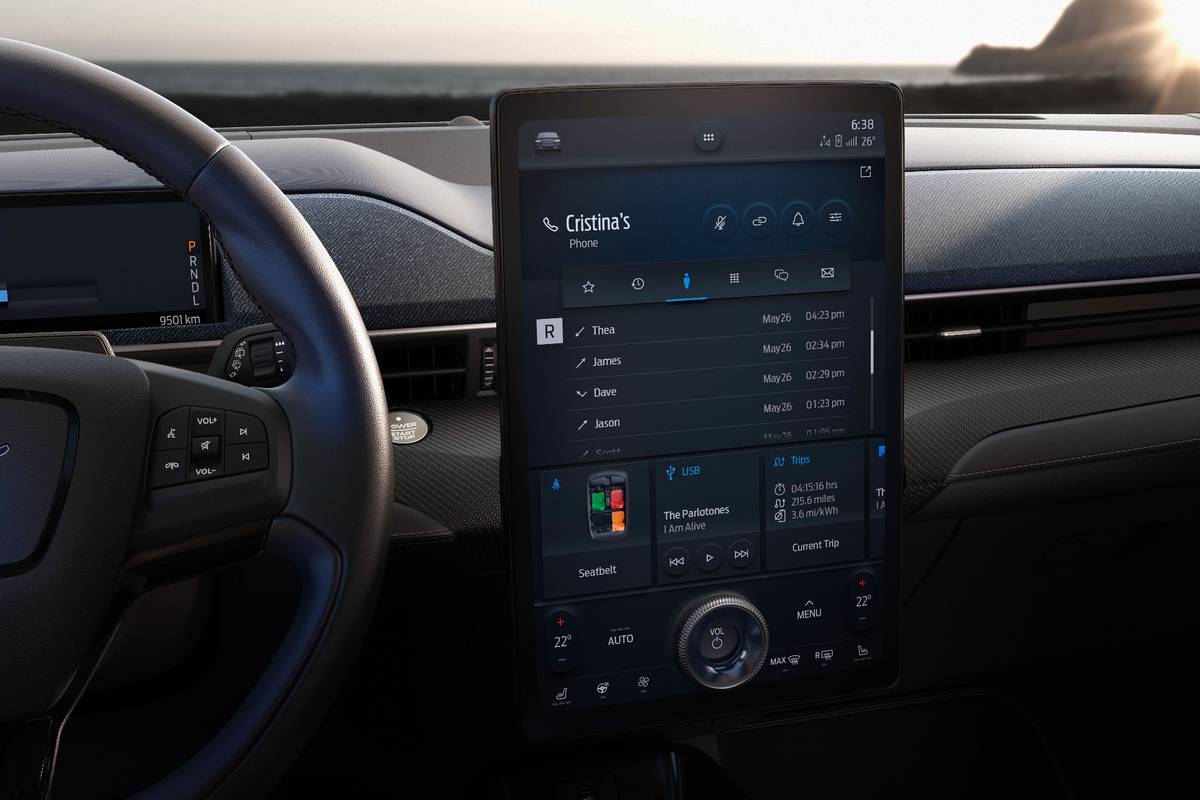 Housed within the multimedia screen is Ford's next-generation Sync system (Sync 4), which comes with many new features, including wireless Android Auto and Apple CarPlay, driver profiles with the ability to learn your habits, and over-the-air updates for vehicle functions. Updatable vehicle functions include vehicle performance, maintenance updates and new features (the functionality is a Tesla hallmark that otherwise remains rare). Another 10.2-inch screen replaces the traditional gauge cluster.
One eye-popping feature is the available panoramic glass roof, which spans nearly the whole length of the vehicle and opens the cabin up nicely. It doesn't come with any kind of shade beneath it; Ford says that glass has been treated to keep ultraviolet rays and heat out, but we'll have to test that on a warm day ourselves to be convinced. Ford will offer a range of animal-free seating materials for both the seats and steering wheel.
One set of specs we did get was cargo capacity — 29 cubic feet behind the rear seat and 59.6 cubic feet with the rear seats folded down. There's also a front trunk "frunk" that has 4.8 cubic feet of cargo space, which is sealed and comes with a drain so you can fill it with ice or dirty items and simply wash it out later.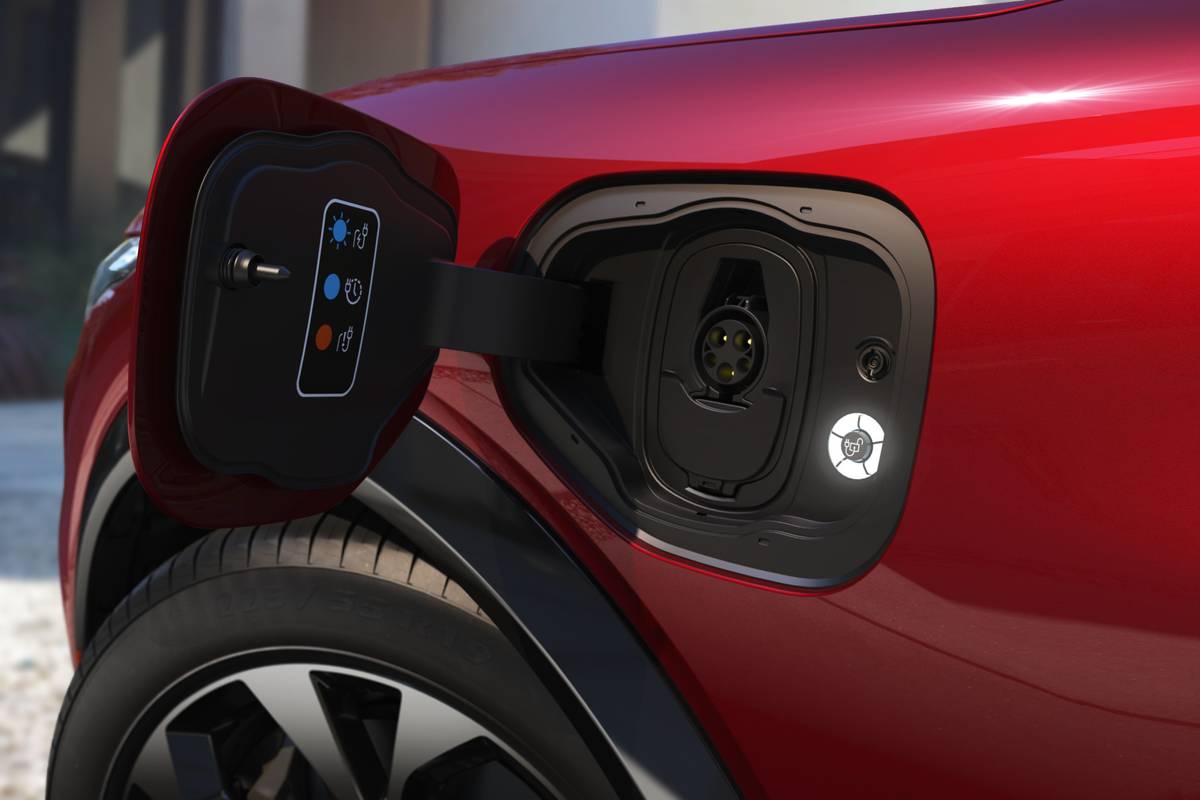 Under the Hood (Floor)
All power and range figures Ford released are estimates, so these are subject to change after further testing and EPA evaluation. The Mustang Mach-E will be offered in standard and extended-range versions; standard versions feature a 75.7-kilowatt-hour battery pack with 288 lithium-ion cells, while the extended has a 98.8-kwh battery pack with 376 cells. On several of the trim levels, buyers can choose between rear- and all-wheel drive, the latter of which adds an extra electric motor to the front axle.
Power output estimates vary by model. The Select is only available with the standard-range battery and produces 255 horsepower and 306 pounds-feet of torque (417 pounds-feet of torque with AWD). The Premium makes similar power figures with the standard-range battery, but move up to the extended-range battery and it jumps to 282 hp for RWD and 332 hp for AWD with the same reported torque figures.
First Edition models are only offered with the extended battery and AWD (332 hp and 417 pounds-feet of torque), while the California Route 1 only comes with the extended battery and RWD (282 hp and 306 pounds-feet of torque), which is the configuration of the Mustang Mach-E that offers the most range; Ford says it's targeting 300 miles for this setup. For models with the standard battery, range will be around 230 miles (RWD) or 210 miles (AWD). For the extended battery, those figures jump up to 300 miles (RWD) or 270 miles (AWD).
The GT and GT Performance Editions are only offered with the extended-range battery and AWD, targeting 459 hp and 612 pounds-feet of torque that Ford says will run from 0-60 mph somewhere in the mid-3-second range; for comparison, we ran 0-60 mph in as fast as 3.9 seconds in a Mustang GT. Estimated range for the Mach-E GT models is 235 miles. The Performance Edition will also come with a MagneRide adaptive damping system.
Charging times vary widely, and on a household outlet, the Mach-E only adds 3 miles of range per charge hour. A Ford mobile charger comes standard that allows charging from a 240-volt outlet commonly used for large household appliances like a clothes dryer. On a 240-volt outlet with the mobile charger, the charging rate rises to 22 miles of range per charge hour. And if you get a Ford Connected Charging station installed in your house, that rises to 32 miles of range per charge hour. To get a Ford Connected Charging station involved in your home, Ford has teamed up with Amazon so you can order one along with all the other random stuff you buy there. On a DC fast charger (the Mach-E has a peak charging rate of 150 kilowatts), it adds 47 miles of range for each 10 minutes of charging, and a standard-range battery can fill up from 10 to 80 percent in 38 minutes.
Safety
Safety certainly comes standard on the Mustang Mach-E. All models come with reverse brake assist, forward automatic emergency braking and warnings, blind spot warnings, automatic high beams, adaptive cruise control, lane keep assist with lane centering and speed-limit sign recognition. A 360-degree camera system and active park assist are also available.
Ford also says that the vehicle will come with the hardware necessary for hands-free highway driving, but it won't be activated at first. This means that the feature could be turned on later via an over-the-air update, but Ford would not commit to a timing for the roll out of this feature.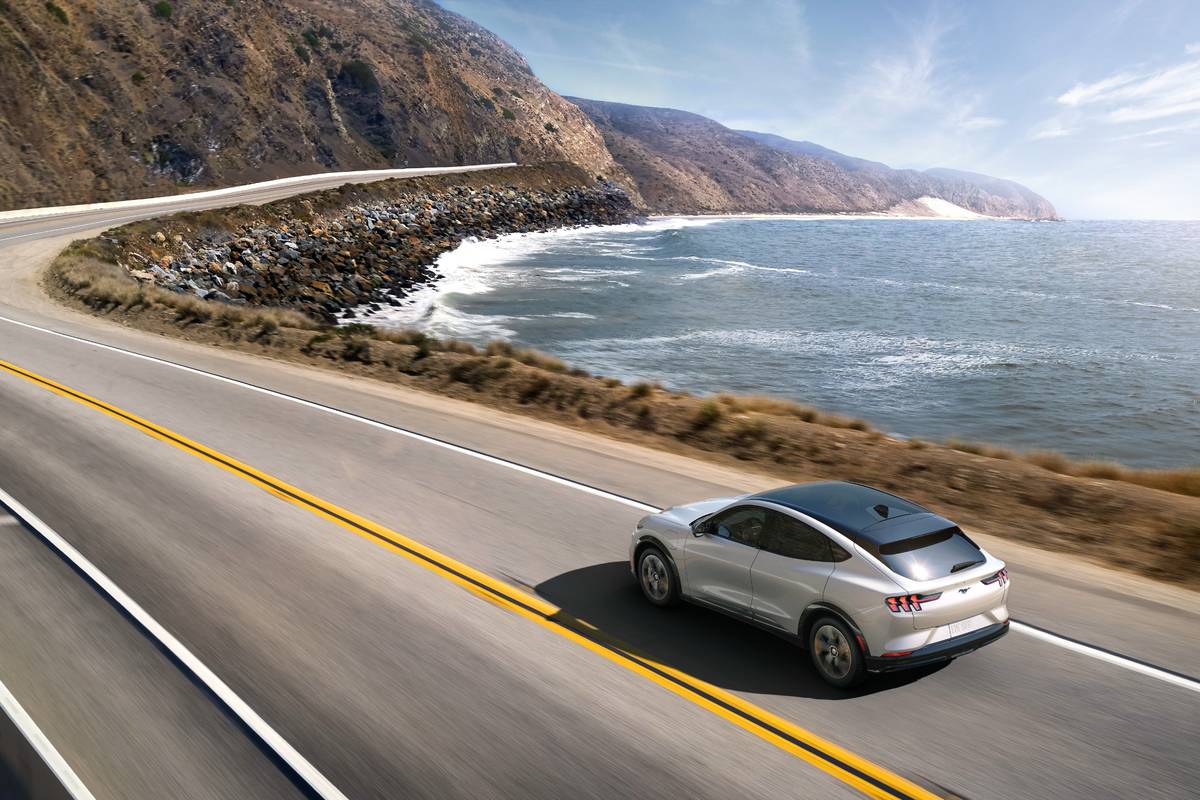 Pricing and Release Dates
Pricing for the entry-level Mustang Mach-E Select trim starts at $44,995, including $1,100 destination charge, but not including any potential savings from federal tax credits. Ford eagerly pointed out that the SUV will qualify for the full $7,500 federal tax credit that Tesla and GM vehicles don't get anymore, though both qualify for smaller credits for a little longer. A Ford spokesperson confirmed that this credit should last for "roughly the first year" of production. The least-expensive Mach-E won't go on sale until early 2021.
The Mustang Mach-E will get a staggered rollout, with Premium ($51,700) and First Edition ($61,000) variants coming first in late 2020. Those will be followed by the Select and California Route 1 ($53,500) trims in early 2021, and the GT ($61,600)  in the spring of 2021. Buyers can put down a refundable $500 deposit to get in line for the new EV after the SUV's unveiling, on Ford's website.
Cars.com's Editorial department is your source for automotive news and reviews. In line with Cars.com's long-standing ethics policy, editors and reviewers don't accept gifts or free trips from automakers. The Editorial department is independent of Cars.com's advertising, sales and sponsored content departments.