EXPERT REVIEW
2020 Ford Escape Review: Better on the Big Stuff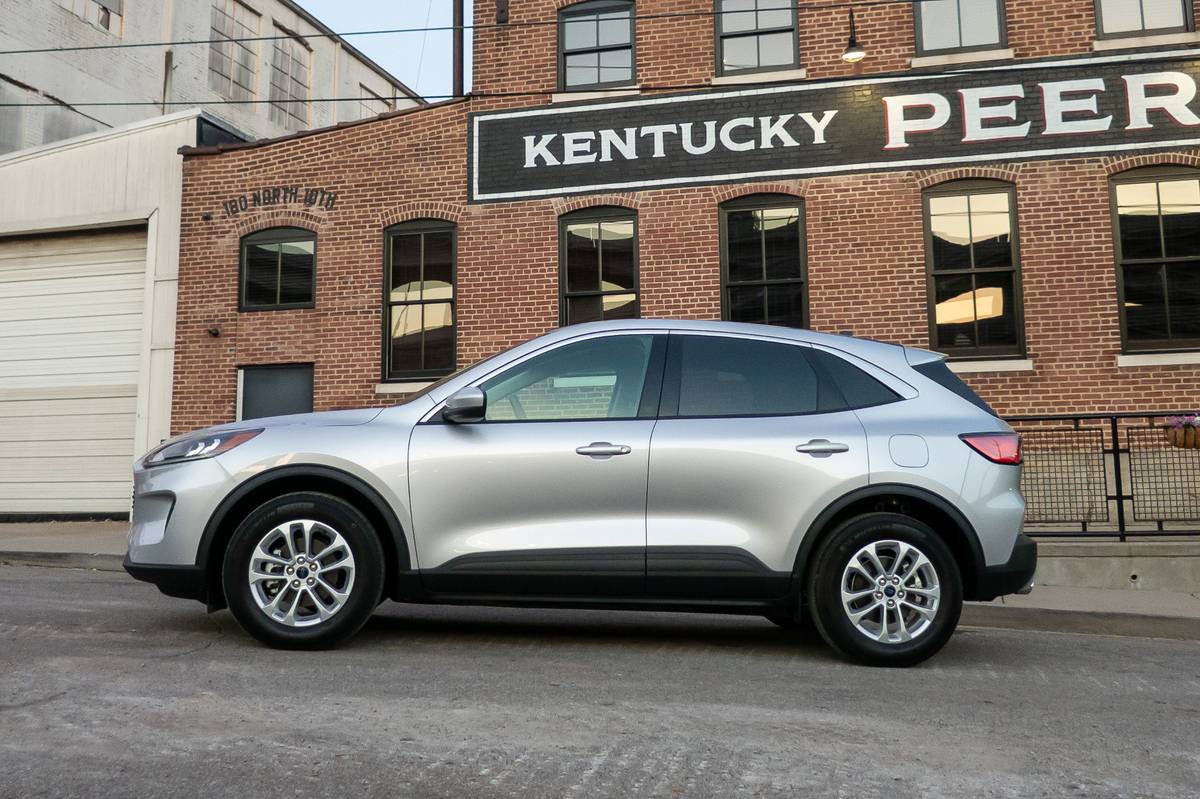 Notable highlights
${price_badge()}
${hot_car_badge()}
${award_badge()}
${home_delivery_badge()}
${virtual_appointments_badge()}
${cpo_badge()}
${href_to_vdp()}
${price_badge_description}
Certified cars are manufacturer warrantied and typically go through a rigorous multi-point inspection.
This car is likely to sell soon based on the price, features, and condition.
Looking to have this car delivered to your home? This dealership offers home delivery on some or all of its cars. Contact the dealership with our tools to get details such as qualifying cars, test drive options, and any applicable fees.
You can get more information about this car from your couch through a virtual appointment! Use our tools to contact the dealership to schedule a video consultation. A video walkaround of this car may be available upon request.
See more details about this car
Shop the 2020 Ford Escape near you
The redesign offers turbocharged 1.5-liter and 2.0-liter engines, both with new eight-speed automatic transmissions, plus a hybrid and plug-in hybrid. At Ford's media preview in Louisville, Ky., I evaluated all but the plug-in hybrid, which doesn't go on sale until the spring of 2020. (Per our ethics policy, Cars.com pays for its own airfare and lodging at such automaker-sponsored events.) The other three variants hit dealers in the fall of 2019. I'll detail the non-hybrid Escape here. Hybrid shoppers: We'll publish my take on the Escape Hybrid this Thursday.
Premium Horses
Introduced a few miles north of the Kentucky Derby's Churchill Downs racetrack, the Escape has a little less in its saddle for 2020. Non-hybrid variants lose some 200 pounds versus their outgoing counterparts — a much-needed reduction, as the 2019 Escape was one of the heavier SUVs in its class — and the 1.5-liter Escape, which has 181 horsepower, feels all the better for it. With front-wheel drive and two adults aboard, our example exhibited a little lag from a stop but had sufficient power afterward, with a welcome, lengthy burst of torque to climb up to cruising speed.
With the optional all-wheel drive (which added around 170 pounds) and a third adult (rude to ask), a different 1.5-liter Escape I tested felt overtaxed. The start-off lag became pronounced, and even at full steam, the engine struggled to pull the SUV up to speed. Those who plan to carry such loads regularly should step up to the turbo 2.0-liter engine, which makes 250 hp.
With three adults and AWD, the 2.0-liter Escape made quick work of Kentucky's narrow backroads, with a gratifying band of torque that starts early and ends late. It's less peaky than the outgoing turbo 2.0-liter Escape, but I miss the latter SUV's responsive six-speed automatic. The new eight-speed resists downshifts while in motion until the accelerator is halfway to the floor. A driver-selectable Sport mode removes the stubbornness, though it doubtless penalizes fuel efficiency. Even so, this is the way the 2.0-liter Escape should behave by default; I wish Ford tuned the Normal mode for more fun, leaving the drive-mode selector's Eco mode to provide higher efficiency. (The selector also has Slippery and Deep Snow/Sand programs.)
One important caveat: Ford rates horsepower and torque figures for both engines using 93-octane premium gasoline, officials said. Powertrain manager Mary Bourke said the engines run fine on 87-octane regular fuel, and none of the fuel doors on multiple test cars I checked had labels calling for premium. Ford declined to give power ratings with regular fuel at the time of my drive. Given the change in spark timing, it's likely both engines lose some horses when running on regular gas (when AAA tested several cars in 2017 for premium versus regular fuel, power increased 1 to 2 percent on average, depending on the test). Ford officials confirmed that all of my test vehicles had 93 octane. Because the 1.5-liter engine's power proved barely sufficient at times even with such fuel, 87-octane gasoline might not cut it, depending on your needs. That, in turn, could drive up operating costs: A gallon of premium gas averages 23 percent more than regular as of this writing, per AAA.
Handling and Ride Quality
As before, the Escape steers with light effort but a quick ratio. Some will find feedback too numb, but the SUV's nose reorients with decisive quickness, a historic strength for the Escape. Body roll is reasonably contained, though the efficiency-oriented Bridgestone Ecopia tires on most of my test cars allowed a fair amount of slippage through sweeping curves. Braking linearity could also improve: After some initial softness, the brakes bite down too abruptly.
The roads southeast of Louisville involved largely smooth pavement, so we'll have to secure a test car back at Cars.com's Chicago offices to render a final verdict on ride quality. Loaded with occupants, the Escape rode a touch busy at highway speeds, and road noise becomes noticeable at 70 mph. But body control and overall shock absorption were good, even with the SUV's largest available wheels — 19-inch alloys with P225/55R19 tires. Seventeen- and 18-inch wheels are also available, with uniform suspension tuning across all trim levels.
A Few Steps Backward, Many Steps Forward
Similar to its smaller EcoSport sibling, the Escape features a layered dashboard design with a high-mounted 8-inch touchscreen, which has Apple CarPlay and Android Auto in all but the base trim level. (That trim, the Escape S, gets a 4.2-inch screen with neither smartphone integration.) Higher trims offer 12.3-inch virtual gauges, a head-up display, heated leather seats with power adjusters — including a height adjustment for the passenger, not just the driver — and a panoramic moonroof. Missing are two features offered among certain competitors: ventilated front seats and heated rear seats.
The center console loses the last Escape's bonus storage nooks, and Ford swapped its large rear-quarter windows for comparatively useless portals. Neither development is a deal-breaker, but both are small steps backward. Wireless smartphone charging is unavailable and USB ports max out at just two, but Ford says it's adding two more ports and wireless charging later in the 2020 model year.
Aside from standouts like the Mazda CX-5, compact SUVs are a mixed bag for interior quality, and the Escape follows suit. Lush materials adorn most of the dashboard and doors, but some areas are heavy on dull-looking plastic trim and a few controls feel tentative. Interior quality dives when you get to the backseat, a common cost-cutting move in this class, but space does not. Much-needed knee room and a reasonably high seating position improve upon the cramped rear seats that dinged the prior Escape in a Cars.com comparison two years ago.
New for 2020 is a sliding adjustment, rare among compact SUVs. It grants some 6 inches of additional cargo depth, though you'd need small backseat passengers to exploit the full range. By my measurements, when the seat's in its rearmost position, the cargo floor's dimensions are comparable to the outgoing Escape. It's competitive in this class, but shoppers with serious cargo needs should consider the Volkswagen Tiguan or Honda CR-V, which have substantially more space.
More From Cars.com:
Pricing, Value
Safety and driver assist tech, once a major weakness for the Escape, land the SUV among the class leaders for 2020. Standard features include automatic emergency braking, now with pedestrian detection — automatic emergency braking was previously unavailable on the Escape — plus a blind spot warning system and lane departure warning with steering assist. Options include adaptive cruise control and lane-centering steering, both of which work all the way to a stop.
Including the destination charge, the 2020 Escape runs from around $26,000 to about $41,000 with all options. That's competitive at the bottom, if a little steep at the top. The redesigned Escape has a few missteps, but Ford largely addressed its shortcomings while preserving its strengths. Unless it suffers a big drop in performance on 87-octane fuel — which I suspect the vast majority of owners will use — it should prove as popular as ever.
Editor's note: This story was updated Sept. 17, 2019, to clarify powertrain outputs.
Cars.com's Editorial department is your source for automotive news and reviews. In line with Cars.com's long-standing ethics policy, editors and reviewers don't accept gifts or free trips from automakers. The Editorial department is independent of Cars.com's advertising, sales and sponsored content departments.