EXPERT REVIEW
2020 Cadillac CT5 Review: Get the Turbo Six, When You Can Find One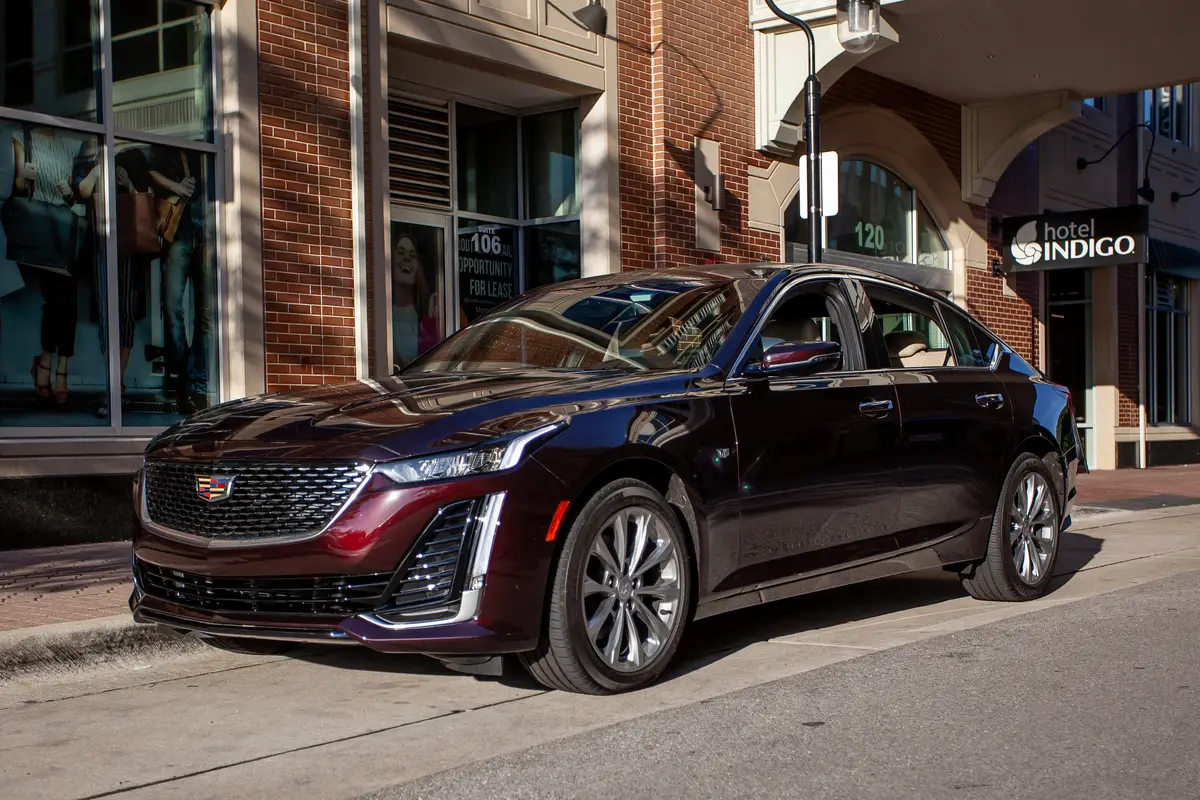 The verdict: Starting $10,000 less than the Cadillac CTS it replaces, the new 2020 Cadillac CT5 maintains a generously sized interior in a more affordable package. 
Versus the competition: The CT5's turbo V-6 and generous size for its price are a rarity, though there are some questionable interior choices for a luxury car. 
The Cadillac CTS is finito for 2020, replaced by the Cadillac CT5, which has been redesigned and repositioned to be a more appropriate competitor for compact luxury sedans like the BMW 3 Series, Audi A4 and Mercedes-Benz C-Class. The Cadillac CT5 has standout attributes, but that doesn't make it any less of an odd duck compared with the CTS; in fact, its awkward place in the class is what defines the CT5.
Related: 2020 Cadillac CT5-V Test Drive: Great Car, Awful Timing
Despite a distinct pricing advantage compared with its compact rivals — it starts at $37,890 with destination charge — the CT5 has a nearly identical footprint and interior volume as pricier mid-size luxo-sedans like the BMW 5 Series, Audi A6 and Mercedes-Benz E-Class. The CT5 seems to be taking a page from the Book of Genesis — the version written by Hyundai, that is — offering a large car at a low price. That said, even Genesis seems to be changing its ways, given the redesigned 2021 Genesis G80 is now priced closer to the traditional mid-sizers, leaving a nice spot for the CT5.  
Another distinct difference between the CT5 and its German rivals is that it lets you add its more powerful optional engine without forcing you into an entire performance package. Opting for a BMW M340i, Audi S4 or Mercedes-AMG C43 is the only way to get competitors' up-level turbo-six engines, but they also come with sport suspensions and seats that can compromise comfort — and your wallet. Cadillac has a competitor for those hotter versions — the CT5-V, which has 360 horsepower (see the review) — but it also offers a less spicy 335-hp 3.0-liter as an upgrade over the 237-hp, turbocharged 2.0-liter base engine.
For this review, I tested a CT5 Premium Luxury 3.0-liter with all-wheel drive that was sparsely optioned, with a final price tag of $52,155. For comparison, the last BMW 3 Series we tested were loaded versions of the turbo four-cylinder 330i and M340i, which stickered at $57,000 and $70,000, respectively.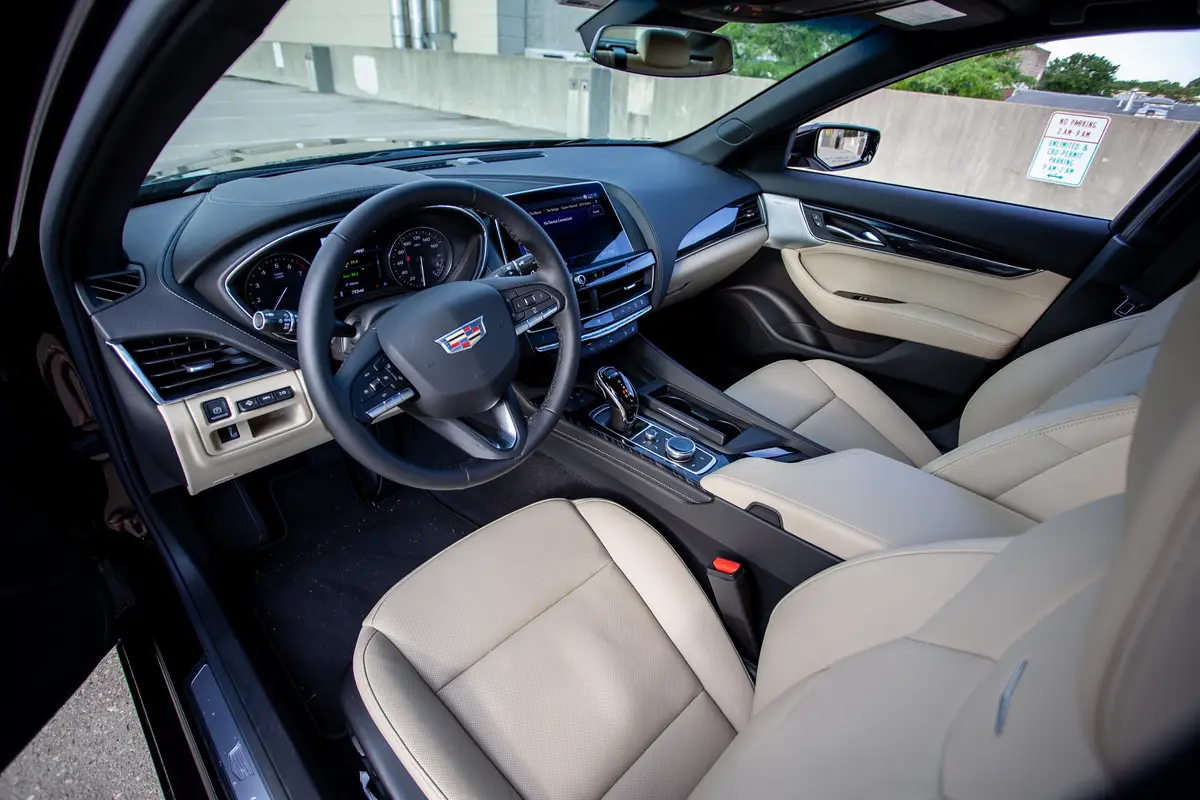 Sizable Interior, Questionable Appointments
At 193.8 inches long, the CT5 comes within an inch of those mid-size German sedans, and it's 6 to 9 inches longer than a 3 Series, A4 or C-Class. Some of that length is found in the backseat, which has plenty of legroom for passengers. I was perfectly comfortable in the backseat, and I'm a 6-foot-tall man who carries his height in his legs. I also carted around a rear-facing convertible child seat that left heaps of room for the front passenger. Overall comfort was exceptional compared with competing vehicles; in a 330i, for example, my wife had very little front legroom with the same car seat installed behind it. Taller rear passengers should note, however, that I was at the upper limits of the Cadillac's backseat headroom.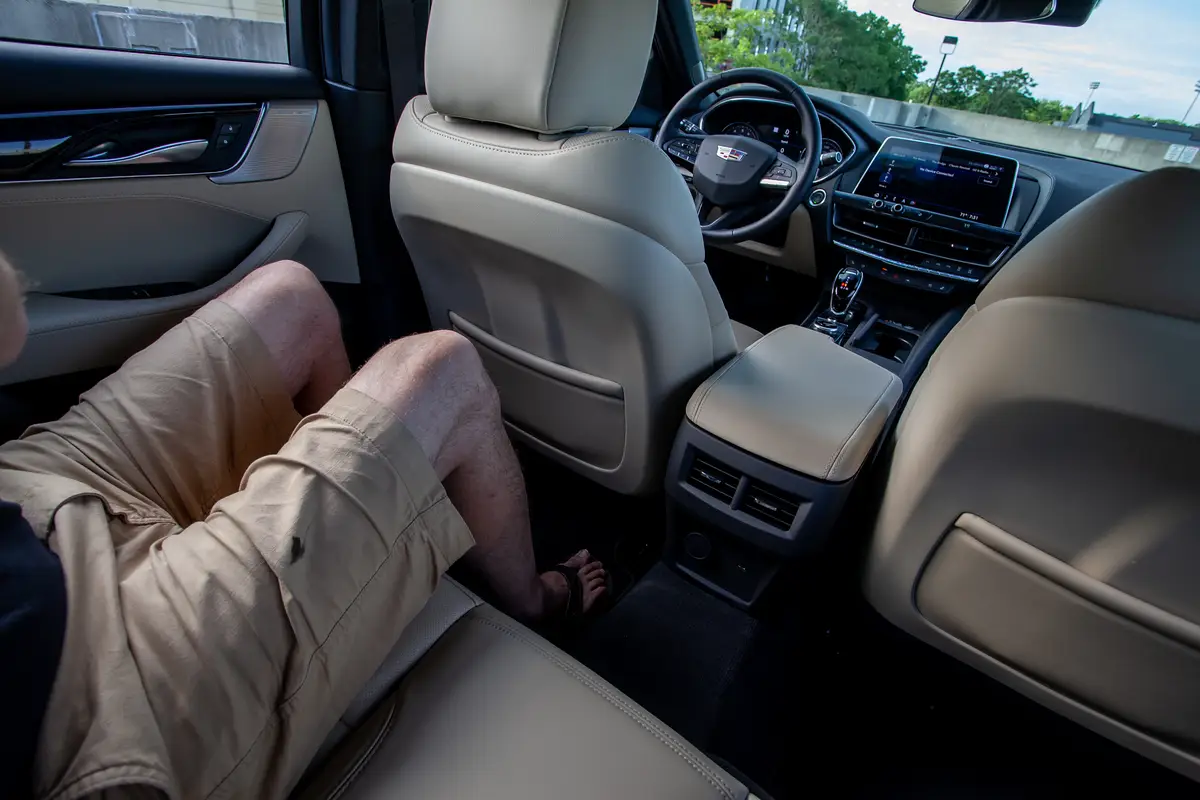 The Cadillac's size advantage, however, is contrasted by its odd choices when it comes to interior styling and quality. The CT5's interior styling doesn't take any wild swings from its predecessor, and there's no digital dashboard like you'll find in the 3 Series, or the previous CTS; one will be available in the CT5 starting in 2021. There aren't any standout touches, like the available quilted Nappa leather interior in the Genesis G70.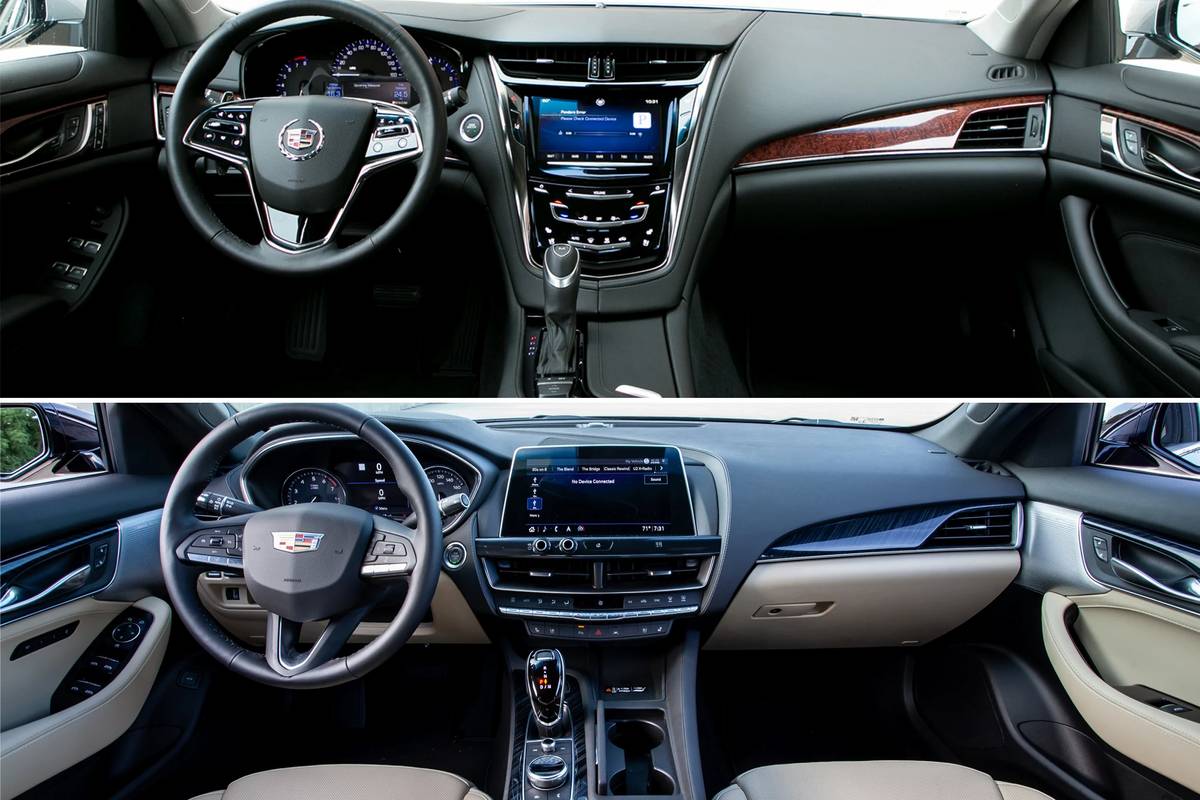 The CT5's overall vibe is the same conservative styling as the CTS, where the most notable characteristic is the center touchscreen and controls, though this time it's in a good way. The former touch-sensitive controls are replaced by genuine buttons and a volume and tuning knob. One of my largest criticisms of Cadillac's capacitive-control design — besides it simply not working — was that it felt cheap because the whole panel flexed when a button was pressed. Now, with real buttons, there's no such concern.
The touchscreen has a redundant dial controller rearward of the gear selector, but I didn't use it because I got everything I needed from the touchscreen. It's a good alternative for those with limited mobility or short arms. The new electronic gear selector is a plastic blob on the center console; I miss the stitched upholstery and mechanical feel of the CTS' traditional gear selector. Competitors' electric gear selectors are prettied up a bit more than the CT5's.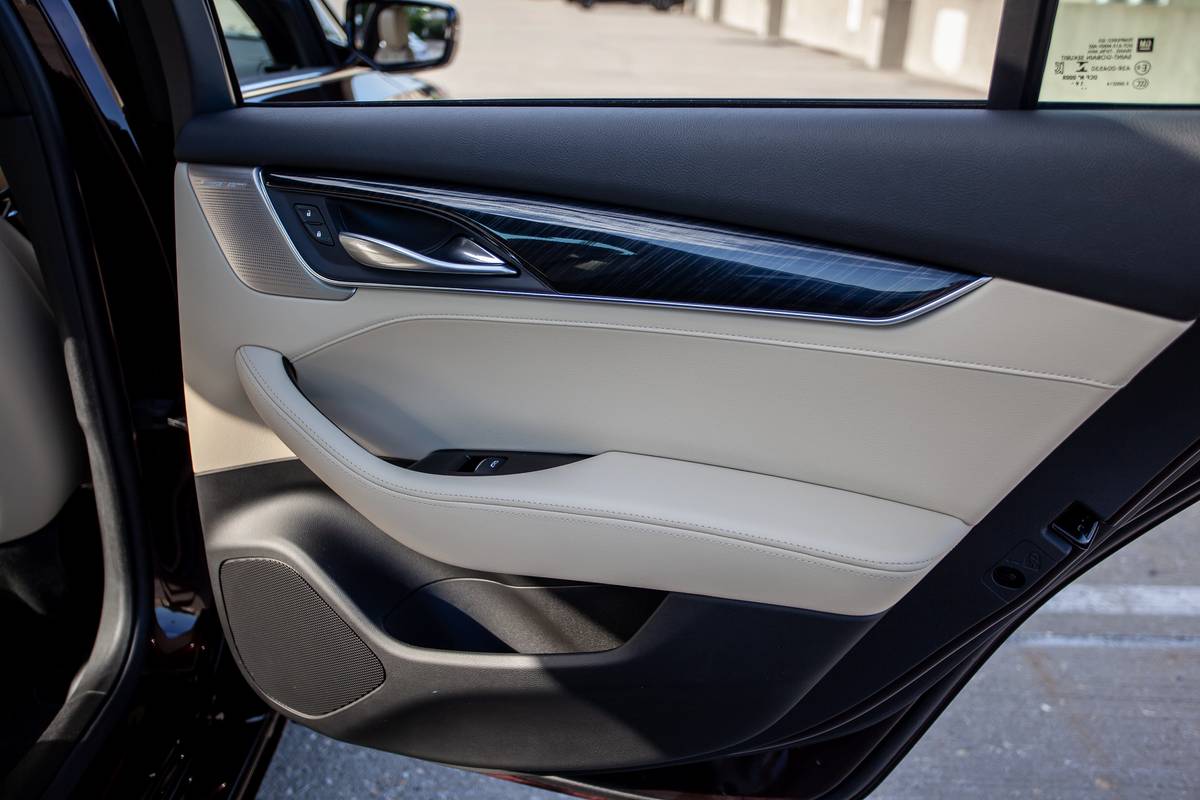 The CT5 Premium Luxury trim I tested had real leather seats (leatherette is standard) and interior materials that were mostly good for the class, like soft-touch padding on the upper doors and the console's nicely grained wrap. This also translates to the backseat, where there's very little falloff in materials quality. One odd choice, however, was the plastic marbled trim on the door panels and dashboard of my test car's Sahara Beige interior. It had a bright sheen and didn't look like it was imitating wood, metal or carbon fiber. It was most similar to the trim you'd see in a cheaper car, where it's more of an afterthought than a highlight. There are a number of accent trims available, though, depending on interior color and package, so perhaps those are more convincing.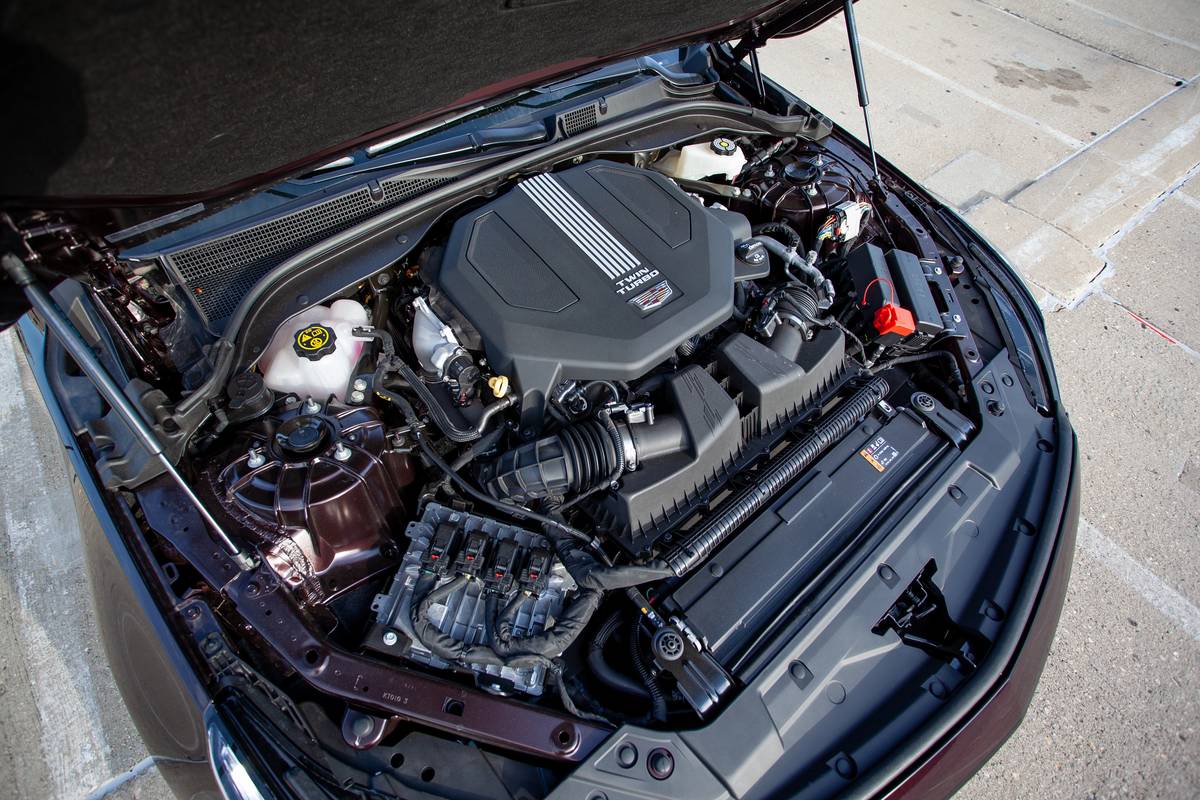 A Six You Might Not Be Able to Get, At First
What I don't need to be convinced of is that the CT5's twin-turbo V-6 is a solid pick, but it might be a rare one. As of publication, there were about 2,600 CT5s in Cars.com's national inventory, of which 2,400 have the four-cylinder and 200 have the six-cylinder. The CT5 launched late in 2019 with the four-cylinder, and six-cylinders only started shipping in early 2020 just as the COVID-19 pandemic halted production. Cadillac anticipates six-cylinder inventory to eventually make up 20-30% of CT5s, but for now, at least, the V-6 isn't widely available. 
The CT5's twin-turbocharged 3.0-liter V-6 makes 335 hp and 405 pounds-feet of torque that scoot the all-wheel-drive CT5 with a refined vigor and minimal delay. Cadillac says the CT5's V-6 does 0-60 mph in 4.9 seconds, compared with the four-cylinder's 6.6 seconds — a sizable difference. We found the four-cylinder to be underwhelming in the CT5, especially compared with BMW's potent 330i base engine, whose 0-60-mph time we measured at 5.6 seconds.
You'll pay for the 3.0's performance at the pump, though. It's rated 19/26/21 mpg city/highway/combined, versus the 2.0-liter's EPA-estimated 23/32/26 mpg. At 15,000 miles a year and current prices for premium fuel (required for both), that could cost an extra $350 a year, according to the EPA. The V-6's rating is also lower than comparable AWD six-cylinder competitors: the M340i is rated 25 mpg combined, the S4 is rated 23 mpg combined and the AMG C43 is rated 22 mpg combined.  
The powertrain experience is fairly seamless, with few hiccups from the 10-speed. I wanted more input on whether Performance Shift was activated or not; it's denoted only by a green gear outline in the instrument cluster. Performance Shift holds gears longer, shifts firmer/faster and is automatically activated by throttle input, but that gave it a delay and sometimes inappropriate shifting for what I was demanding. Pontiacs used to have a Performance Shift button on the gear selector, which would be nice functionality to have again.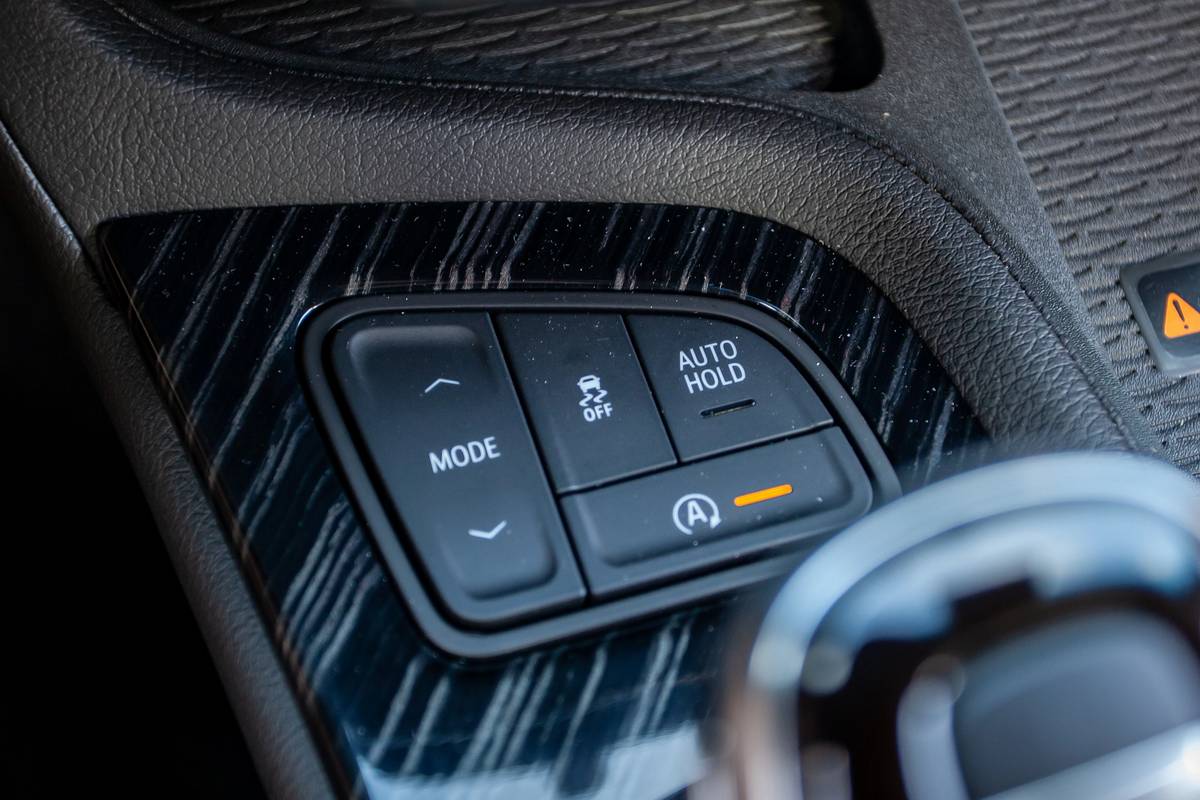 Tour and Sport modes are activated by a toggle switch ahead of the gear selector. They adjust the expected parameters of engine and transmission responsiveness, as well as how the engine sounds through electronic augmentation via the sound system's speakers. The 3.0-liter has a naturally tight, sharp soundtrack, so the electronic help comes across as natural and pleasing rather than artificial, as it does with many four-cylinders. 
Choosing Sport mode also changes how the brake pedal feels, thanks to a drive-by-wire braking system that replaces the traditional vacuum brake assist. It's still using hydraulic fluid and lines for braking, but the boost in brake pressure now comes from an electric motor, not engine vacuum, and the brake pedal is electronic and can alter pedal feel. The difference in brake feel is most apparent in heavy braking use when quickly running up on a sharp corner, not during normal stop-and-go traffic. In Sport mode, the brake pedal's action is a touch higher in the pedal stroke and pushes back more than in Tour mode. I'm still adjusting my own calibrations to these kinds of systems in non-hybrid or electric vehicles, but the ones in GM's cars and trucks have a short, hard brake pedal that's more binary than linear — except the 2020 Chevrolet Corvette, which has the most natural tuning of any GM vehicle I've experienced.
Sport Suspension Optional
Cadillac's appropriately hyped Magnetic Ride Control is available only on the CT5-V, with unique suspension tuning, so what you get in the regular CT5 is a fixed-firmness, passive shock absorber package. It delivers a comfortable ride that communicates road feel without being jarring. It's not a sport suspension, per se, but this is definitely modern Cadillac suspension tuning, more along the lines of the outgoing ATS and CTS, which were among the most dynamic sedans of their time. 
The previous ATS and CTS were ahead of the competition in terms of giving you what you want from the steering wheel: enough road feel to be communicative but not high-strung, with light assist and quick-ratio steering. The CT5, as well as a CT4-V I drove at the same time, are missing some of that magic. The steering lacks on-center bite and has a slow steering ratio that takes too much steering angle to get a response from the front end. I experienced early understeer — possibly from the all-season tires and relaxed body control — but that concern could be addressed by the existence of the CT5-V, which is a milder sport package, like the former CTS V-Sport versus the powerhouse CTS-V. I caveat these impressions by stating both versions I drove were all-wheel drive. The all-wheel-drive CT5 has a fixed steering ratio versus the rear-wheel-drive CT5's variable steering ratio, so perhaps the rear-wheel drive's steering is more responsive, though I haven't driven one to confirm. 
The larger issue is that BMW is back, and in a bad way for Cadillac. Where Cadillac's proficient handling package used to embarrass BMW's, the BMW 3 Series has now found the edge it lost in its previous generation. Pitting the CT5 against a contemporary 3 Series, with or without the M Sport Package and with or without all-wheel drive, would not be a winning move for Cadillac. 
However, the CT5's larger size and longer wheelbase deliver ride quality that's sublime, if a little busy, with no jarring jolts over broken pavement. Helping the pleasant highway experience is minimal wind and road noise; any luxury automaker would be thrilled to have the CT5's isolation. The cabin is well-sealed-off from the outside — most obviously when I took the CT5 through a car wash and it felt like the massive air dryer was a million miles away.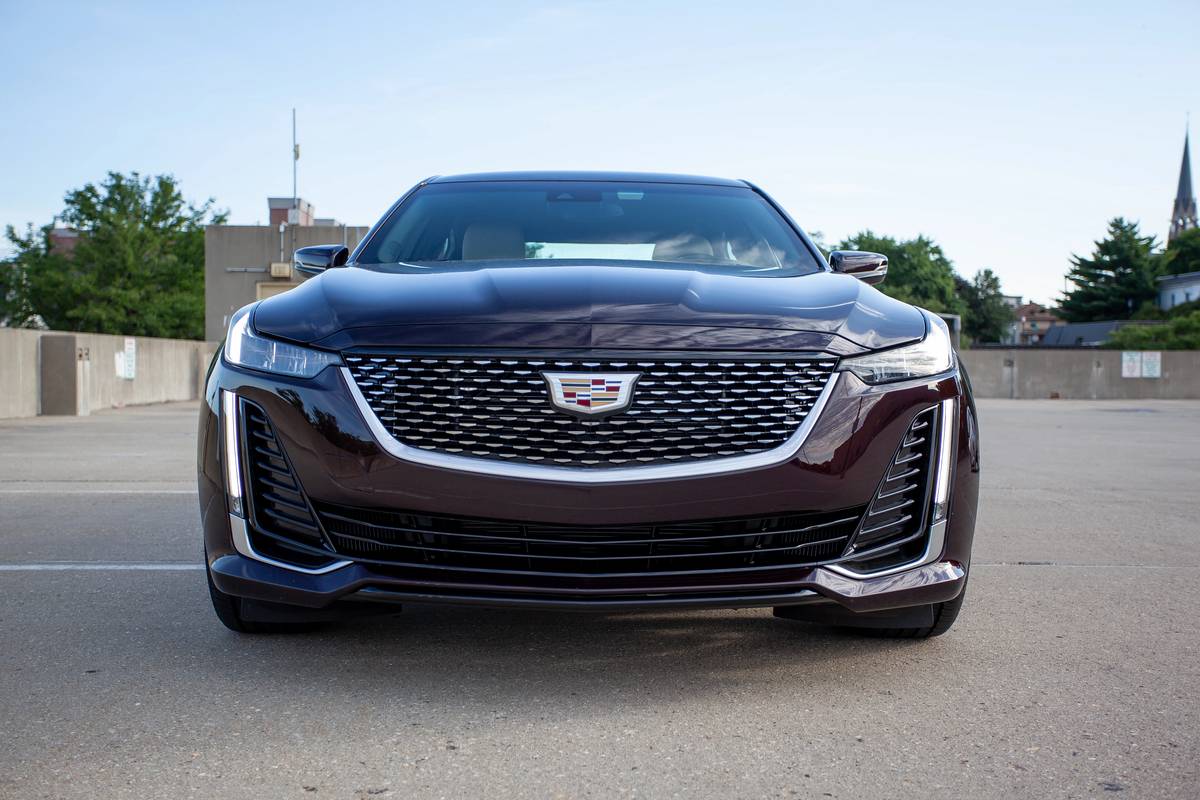 Is The CT5 Worth the Money?
The six-cylinder CT5 isn't at the level of its dedicated sport package compatriots — and it definitely doesn't match the acceleration of the M340 — but it's a happy alternative with an appropriate price tag: $52,155 as-tested, including destination charge and optional equipment. What the CT5 didn't have at that price was adaptive cruise control, which is part of a Driver Assist and Advanced Security Package, or Super Cruise, Cadillac's hands-free adaptive cruise control, which won't be available on the CT5 until the 2021 model year. BMW's Extended Traffic Jam Assistant — one of the only other hands-free systems out there — is available on the 3 Series. 
Two features stood out in my testing, including a standard high-resolution backup camera that provided some of the best clarity around; a multiview 360-degree top-down system is optional. The other was in-car Wi-Fi, which seemed gimmicky at best in pre-pandemic times. Now, though, I used the CT5's cellular Wi-Fi to remotely video conference from my laptop, and it delivered a presentable enough video feed. It's not something I would have needed prior to 2020, but the CT5 made it doable. Almost all competitors offer in-car Wi-Fi, but what makes the CT5 stand out is that the backseat is a decently accommodating workstation; there's even a USB-C outlet back there.  
With the optional V-6, the CT5 is a compelling offering that's roomier than its competitors, and certainly a bargain buy when put up against other optional turbo-sixes. Our reviewers weren't particularly thrilled with the CT5's 2.0-liter, but the V-6 fills the gap without going overboard with firm suspension tuning or exorbitant cost. Pricing for the CT5 V-6 starts around $45,000 — competitive with the pricing of four-cylinder competitors — which means it's even more unfortunate that this is the engine that makes the CT5, but will be hard to find until more fill the market.
Cars.com's Editorial department is your source for automotive news and reviews. In line with Cars.com's long-standing ethics policy, editors and reviewers don't accept gifts or free trips from automakers. The Editorial department is independent of Cars.com's advertising, sales and sponsored content departments.