EXPERT REVIEW
2019 Toyota Camry Review: Short of Great, But Still Good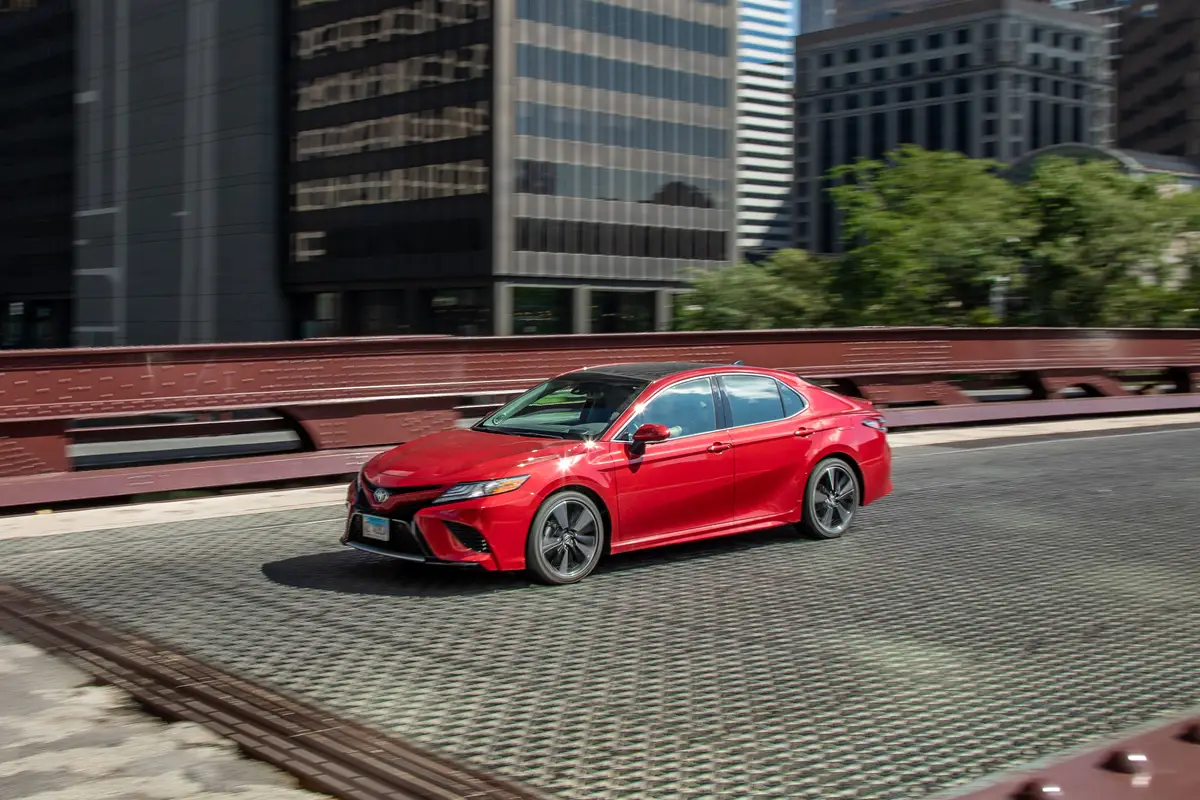 The verdict: Fresh off its 2018-model-year redesign, the Toyota Camry adds incremental improvements for 2019 to remain a solid choice among mid-size sedans — if you're willing to spend enough.
Versus the competition: The Camry stands out as a premium choice that holds its own against redesigned rivals, especially if you pony up for a well-equipped version.
Consumers' shift toward SUVs has blunted the Camry's longstanding popularity, but it remains Toyota's second-best seller behind only the RAV4 SUV. For 2019, Toyota offers the Camry sedan in five trim levels and two engines; compare the 2019 and 2018 Camry here. The most notable change for 2019 is the addition of Apple CarPlay, which you can now get retrofitted on a 2018 Camry. Android users, unfortunately, will find the Camry still missing Android Auto.
Cars.com covers the Camry Hybrid on a separate page; this review covers the non-hybrid 2019 Camry. We tested a well-equipped V-6 XSE this time around, but I'll draw from a wide range of configurations we've tested over the past two model years — none more illustrative than a 2018 Camry we drove as part of a three-car comparison with the redesigned Honda Accord and Nissan Altima.
Mostly Fun, but Lag's a Drag  
Rather than going the route of the largely turbocharged mid-size class, Toyota doubled down on turbo-free engines with the Camry's redesign. Its engines remain a 2.5-liter four-cylinder and a 3.5-liter V-6, though both have significant technological enhancements. The 203-horsepower four-cylinder is a bit noisy, but it delivers smooth, lively revving off the line, and it's among the most potent base engines in this class. Unfortunately, responsiveness suffers once you're in motion. Floor the pedal in a passing lane, and the Camry's eight-speed automatic transmission delays too long before downshifting. We aren't the only ones to notice: Our friends at "MotorWeek" observed the same hesitation in their long-term 2018 Camry, and the National Highway Traffic Safety Administration's website has dozens of consumer complaints on drivetrain lag in the 2018-2019 Camry.
Optional on the highest two trim levels, Toyota's 301-hp, 3.5-liter V-6 is a beast. It's easy to spin the front tires from a stop, and the fierce, quick revving will make you want to do it all over again at the next stoplight. The V-6 Camry easily ranks among the quickest sedans in its class in terms of raw power. Drivetrain lag while in motion persists — the V-6 also pairs with a recalcitrant eight-speed auto — but the extra surge after downshift helps make up for it.
Overall ride comfort with 18-inch wheels — the smallest diameter on any model we've driven — is a touch firmer than Camry faithful might like, but shock absorption and body control show a lot of polish. Lower trim levels offer 16- or 17-inch wheels and higher-profile tires, which may make things more comfortable. SE and XSE models have a sport-tuned suspension with 18- or 19-inch wheels, but even with the 19s the ride never beats you up; it's firm but controlled. Toyota got this right.
The Camry's steering is higher-effort than some rivals but far from a workout, and it reorients the car with assertive precision. I suspect zero Camry drivers will throw their car around hairpin turns or autocross courses, but its dynamics are mighty impressive. Camry shoppers, indulge me on this: Up against the Accord and Altima, the Camry exhibits less understeer when pushed hard; its nose tucks dutifully in line through all kinds of corners. At steady speeds on sweeping curves, the tail can even slide around a little bit — a degree of neutrality that's rare among front-drive cars.
Better Tech, But Watch for Cost-Cutting
The Camry's dashboard features a high shelf with lots of intertwining layers — a look many rivals have jettisoned in favor of lower dashboards and high-mounted touchscreens. The Camry's screen — 7 or 8 inches depending on trim level — sits amid a hodgepodge of conventional buttons that lack much organization, but other controls are straightforward enough. Apple CarPlay is now standard, but the lack of Android Auto might be a deal-breaker for shoppers on the other side of the smartphone divide.
Keep an eye out for cost-cutting in lower trim levels: Penny-pinching was evident in the last mid-level Camry we tested — a 2018 SE — in the form of cheaper armrests and more hard-plastic door trim, especially in the rear seats. To some extent, such trim-level variances have become the norm across many mid-size sedans, but few make it as obvious as the Camry.
Pricier trim levels like the Camry XSE and XLE step it up with more soft-touch surfaces all around. Both also add leather upholstery, versus the cloth or vinyl (which Toyota calls SofTex) in lower trims. Other available features include a panoramic moonroof and heated front seats with dual power adjustments, including a height adjustment for the passenger. You can't, however, get a heated steering wheel, heated rear seats or a memory driver's seat — all features available among certain competitors. Cooled front seats are also unavailable, but Toyota says it will offer them on higher trims for 2020.
Space for People and Stuff
Taller drivers should skip the Camry's optional moonroof, which reduces headroom by nearly an inch. As such, my 6-foot frame needed a lower seating position than I wanted. Headroom is fine in the backseat, but it comes at the expense of seating position, which is low enough to leave some passengers' knees uncomfortably elevated. Overall legroom is modest, though not enough to diminish the Camry's top scores in our evaluation of child-safety seat accommodations, which you can read about in the 2019 Toyota Camry Car Seat Check.
In-cabin storage areas are sufficient, though I wish moonroof-equipped models didn't delete the otherwise standard sunglasses holder. Toyota quotes 15.1 cubic feet of trunk space in all but the base trim level, the Camry L, which has 14.1 cubic feet. We've found such specs unreliable, though, and our real-world measurements last year found 14.9 cubic feet in a Camry XLE. That's a little more than we measured in the Altima (14.6 cubic feet) but notably short of the Accord (15.8 cubic feet). Another shortcoming: With the seats folded down, the Camry's pass-through is both short and narrow — a limitation for oversized cargo. IKEA shoppers, beware.
Safety & Autonomy
The 2019 Camry has excellent crash-test scores from the Insurance Institute for Highway Safety, but the sedan's designation as a Top Safety Pick Plus — IIHS' highest award — applies only to upper trim levels of the Camry Hybrid because it has top-rated headlights. Those lights aren't available on the non-hybrid Camry, which has separate headlights in two configurations. Both configurations earn an IIHS rating of acceptable (out of poor, marginal, acceptable and good), which disqualifies the non-hybrid sedan from award status. That said, base headlight configurations in many rivals earn poor or marginal scores; Toyota's aren't too shabby.
Standard equipment on the Camry includes automatic emergency braking with pedestrian detection, lane departure warning with steering assist, and automatic high-beam lights. Adaptive cruise control that works at higher speeds is also standard; higher trim levels get adaptive cruise that works all the way to a stop, though some editors found the system too conservative in its following distances. Blind-spot warning is optional, but lane-centering steering — a feature proliferating in this class and among a few other Toyota models — is not.
Pricing, Value
The Camry's base trim level, the L ($25,050 including destination), is virtually unavailable in Cars.com dealer inventory, so the cheapest example you'll likely find is the LE. Fortunately it's only another $505, and it gets alloy wheels, a power driver's seat and a few other minor upgrades. At the other end of the spectrum, pricing on a top trim with factory options can top out close to $40,000. That's sure to elicit some sticker shock, as many rivals top out a few thousand less.
Last year's third-place finish for a 2018 Camry versus the Accord and Altima came by the slimmest of margins, and the addition of Apple CarPlay alone (now available) might have been enough to change its rank. Even so, the Camry would likely have finished on the podium among the full class of mid-size sedans, a group that's 10 players strong as of 2019. If you're shopping the class, Toyota's mainstay is a must-drive.
Cars.com's Editorial department is your source for automotive news and reviews. In line with Cars.com's long-standing ethics policy, editors and reviewers don't accept gifts or free trips from automakers. The Editorial department is independent of Cars.com's advertising, sales and sponsored content departments.