2019 Super Bowl Car Commercials: Watch Them All Here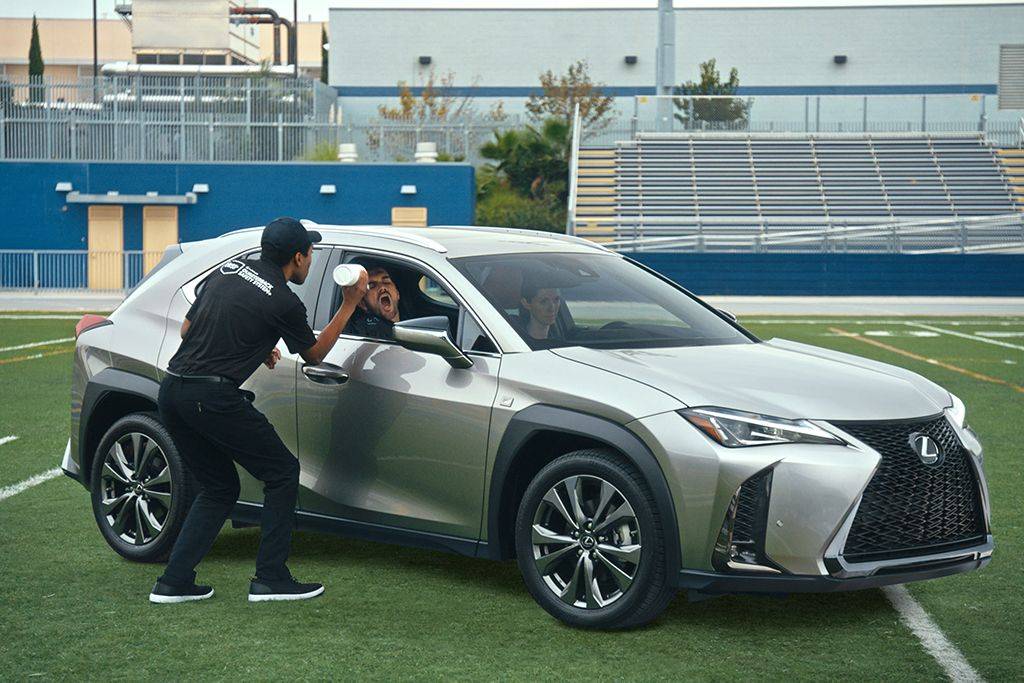 I think it was fantasy author Terry Pratchett (that's Sir Terry to you, by the way) who once said that the important thing about football is that it's not just about football, and no football game exudes not-just-footballness more than the Super Bowl. While this year's contest between the Los Angeles Rams and the New England Patriots will draw in millions of viewers from across the country, millions more viewers will be drawn in by everything but the game. And you know what that means: show-stopping commercials.
Related: 10 Biggest News Stories of the Week: Chevy Blazer Vs. Honda Passport Pops
In time-honored tradition, car commercials will play a part in the interludes. Super Bowl 52 didn't feature a ton in the way of automotive advertising — the flashiest campaign among them was for the newly introduced Kia Stinger — but the 53rd matchup Feb. 3 promises spending from Audi, Hyundai, Kia, Lexus, Mercedes-Benz and Toyota.
Only watching for the wheels? We hear you. Check out our ongoing roundup of each car brand's commercials as they come to us below.
Kia for the People
In a preview of what was to come during the Super Bowl proper, Kia took 30 seconds during the NFC championship game Jan. 20 to honor the proletariat with an ad that eschews … well, exactly what the automaker did with Steven Tyler in 2018. Instead of a Big Name for the Big Game, the South Korean automaker is instead going in on its commitment to the rest of us by introducing The Great Unknowns Scholarship, a noble endeavor Kia says is intended "to help young people in need get a foothold in higher education." Laying down a reported $5 million-plus on 30 seconds to promote that the wealth is being distributed feels pretty Pyrrhic to me, but I guess the revolution has to start somewhere.
2020 Kia Telluride: Reputation Precedes
Following on from its 40-second "What If?" teaser before the game, Kia's ad during the third quarter is a hard 180 away from the absurdist humor of the dancing hamsters. In an unveiling of its new brand campaign "Give It Everything," the child rancher of the "What If?" ad returns with a voiceover describing the blue-collar working town of West Point, Ga., where Kia will be manufacturing the 2020 Telluride SUV. "We aren't known for who we are," he says stoically as the music swells. "We hope to be known for what we do, what we build, this thing we've assembled." Not having driven the three-row SUV yet, we can't confirm or deny the South Korean automaker's use of "incredible" as a descriptor amid a crowded field of competitors, but good on Kia for shining a light on the people who help make its products in the U.S. possible (the West Point plant also manufactures the Sorento and Optima).
2019 Lexus UX 200: Safety First
Lexus, meanwhile, took a lighter-hearted approach with an absurdly detailed four-minute dissection of ersatz quarterback-protecting technology that ought to give devotees of the rugged, old-fashioned, skull-smashing style of play fits. Lexus confronts the debate of how to keep quarterbacks safe by way of Quarterback Safety System Plus, which includes such innovations as a "360 pocket protection camera" and "blindside monitor" intended to mimic features on a 2019 UX 200 equipped with Lexus Safety System Plus (in this case, a 360-degree camera system and blind spot monitor). I'm still parsing out the subtle subplot of the presenting researcher's quivering dedication to this topic, but even more distracting is the thought of what these researchers could do if they were assigned to something more productive for Lexus — like, say, finding an alternative to the UX's touchpad.
2019 Toyota RAV4 Hybrid: Greater Expectations
For its first slot, Toyota features Toni Harris and the new 2019 RAV4 Hybrid. Harris is possibly the first woman to receive a scholarship offer to play football at a collegiate level (ESPN apparently did not do the legwork to confirm that) and definitely the first woman to play a "skill" position (i.e., not a kicker), so this ad is all about the drive to "shatter perceptions." The RAV4 Hybrid isn't exactly comparable — Toyota sold nearly 430,000 RAV4s in 2018 all told, so it's not like the nameplate suffers from exposure or a long-standing bad rep. Still, a more compelling commercial would be pitting the hybrid's advantages against the gas-powered RAV4; we liked the hybrid so much by comparison that we think it's actually the better buy. Good luck getting Toyota execs to go those places, though.
2020 Toyota Supra: Pinball Wizardry
The start of Toyota's second commercial sees a man who is not PickupTrucks.com Editor Mark Williams (though we'd forgive PUTC fans for making that mistake) walking up to a desolate machine that only accepts Toyota tokens in order to drive a Supra; how he acquired these tokens or even knew this place existed is never explained. From there, he hops in to drift and dart around what turns out to be a giant pinball machine, for which there is only one song that could possibly serve as its soundtrack (nobody tell the person who put this Spotify playlist together). All I could think about at the end of the ad's minutelong runtime was how fast this car must go through tires and who's around to change them when they go bald. As usual, we are left with more questions than answers — but, hey, at 5 million bucks for 30 seconds, we'll forgive a few plot holes.
Hyundai: Going Up?
Noted former CEO and ostrich-herding garbage collector Jason Bateman stars in Hyundai's ad for Shopper Assurance, a program the automaker uses to simplify its car-shopping experience by whittling things down to four features: transparent pricing, flexible test drives, a "streamlined" purchase and three-day worry-free exchanges. How do you get there? Well, for the couple in the video, it's by not immediately clarifying that you bought a Hyundai; in a building chock full of unpleasantries like root canals and jury duty, every other automaker is stuck on a lot outside on the ground floor while Hyundai presumably is paying up both literally and figuratively for penthouse space to showcase its new 2020 Palisade SUV, which technically isn't even on sale yet. As Pepper Brooks might say, it's a bold strategy for Hyundai — let's see if it pays off.
Dodge: Georgia on Its Mind
Dodge parent company Fiat Chrysler Automobiles was playing coy in the run up to the Super Bowl by not saying one way or another whether the three commercials it rolled out the Tuesday prior for Dodge, Jeep and Ram would actually run during the game, but if I were a betting man, I'd have said this ad for Dodge's SRT performance division would be airing at some point beforehand. And speaking of bets, Dodge's slot uses "The Devil Went Down to Georgia" as its soundtrack to a ton of tire smoke and unsafe driving courtesy of a Challenger Demon, Charger and Durango (plus the emptiest roads Atlanta has seen since Sherman's March). At the end, a very serious-looking fiddler stares us down and says, "Let's start this show, Georgia." Who among us would argue back?
Jeep: Crusher Destroyer (and Gladiator)
Jeep's first ad is a self-explanatory bit of metallurgy. Dropped into an industrial-strength car crusher, a classic Gladiator — the nameplate was dropped from the Jeep lineup after 1971 and is only just returning for 2020 — is transformed into a modern one as sparks fly, hoses fling loose and the car baler reverses in a scene I can only imagine would give junkyard owners nightmares. A quick search suggests these machines can run as much as 80 large; I don't know about you, but unless that new Gladiator is gold-plated when it comes out of the compactor, it ain't gonna pay for itself. Put this one on Jeep's tab.
Jeep: Patriotic Sans Patriot
Jeep's second ad manages the impressive feat of rendering Grammy-nominated Colorado rock group OneRepublic even more anonymous than it already is with a mostly vocal-less anthem set to a montage of all things American: the football into the backyard tire, soda, Uncle Sam, Marilyn Monroe, astronauts, pillow fights, doughnuts in the desert, jumping out of airplanes — you know, everyday stuff us average U.S. residents are always out here doing. Of minor note is that, despite the Jeep footage peppered throughout the two-minute commercial, not one Jeep Patriot appears. Erasure and revisionist history: another American pastime?
2019 Ram 2500, 3500: This Better Be Worth It
The most understated of FCA's ads may also be its best. A couple of grizzled cowboys are packing up equine accessories and get to talking about the commercials of Super Bowls past. Their selective amnesia on which companies paid for which ads finally leads one guy to say, "They need to just show you what they're selling." At that point — 74 seconds into a 90-second spot, by the way — you finally get a full view of the new 2019 Ram 3500. Perhaps the most impressive thing to me is how many old commercials these dudes can rattle off without remembering a single brand — just imagine being at a point in your life where you can't place that Budweiser has been promoting Clydesdales since Prohibition ended. On the other hand, I can barely remember what I did last weekend, so maybe we call this one a draw.
2019 Ram 1500: Feels Good, (Wo)man?
Ram's second commercial, meanwhile, seems a little misguided. We see a 2019 Ram 1500 cruising along a wooded road as actor Jeremy Renner drives his daughter Ava around, rattling off how empowered she's going to be as she grows up — unapologetic, persistent, a leader, readily employable, eminently electable. "And I?" he concludes, "I'm gonna make sure of it." This very sincere ad tries hard to harness the "Year of the Woman" zeitgeist with some well-intentioned mainstream feminism, but when you think about how this is a father speaking on behalf of his daughter, who remains voiceless, kind of blank-faced and in the backseat with absolutely no control over where they're driving … well, we're not exactly in the realm of Audre Lorde here, are we? (Says the man, who's just asking questions.)
Ram: 'Fourth Quarter' Contains Multitudes
Ram's third ad starts off football-focused, all "Friday Night Lights"-style mood lighting and dramatic intonation as the narrator explains the tension and anticipation we feel during the fourth quarter of a game (excepting Super Bowls 27 or 48, anyway). But then it turns to what else the fourth quarter means: 18 years for a single parent, five hot months on the farm, hundred-hour work weeks in the garage and so on. What I love here is the optimism Ram maintains in assuming there will be time after a fourth quarter, that the game will someday end — that some of us aren't just living in a permanent first quarter. Dare to dream, millennials!
2019 Ram 2500, 3500: The Correct Noun of Assemblage Is 'Flock'
Unlike the thoughtful subtlety of the two cowboys or the heartful humanity of the other two, this Ram ad aims for the absolute lowest-hanging fruit (Greta Van Fleet fans) by employing both rams (animals) and Rams (fans) in service of its brand. In retrospect, not spending money on an ad requiring so little imagination would've been almost as much of a waste as whatever money the brand did pay Motive Group to deliver this. Perhaps the most realistic part of the commercial is the confusion over rights of way at the end, though all credit to the computer-generated flock of rams for being able to discern that it's their move faster than most real-life human drivers I've encountered in downtown Chicago.
2019 Mercedes-Benz A-Class: Entry-Level Omnipotence
"If only everything in life listened to you like your new A-Class," goes the voiceover toward the end of Mercedes-Benz's minute-long slot. Yeah, well, if everything in life listened to me like it does the bro in this commercial, I don't think I'd be demanding random strangers' parking tickets be ripped up, paying for opera seats expecting to see Ludacris perform "Stand Up" or freeing Willy without some consultation from marine biology experts; hasn't this guy seen "Blackfish"? (I would, however, absolutely make "walk" signals change for me.) The chaos he leaves in his wake as he hops in what we assume is his A-Class sure seems like a metaphor … which maybe makes the Super Bowl's most prominent sponsor this year — the game is being played inside the Mercedes-Benz Superdome — also its most subversive. Sounds ludicrous, but in 2019, anything is possible.
Audi: Careful With Those Cashews
Opening with an emotive orchestral backdrop, a man wanders through a vast prairie toward a Colonial-style home to find his — apparently neglectful, with the exception of the house's immediate shrubbery and a single giant, thriving tree — grandfather just hanging out on the porch. The grandfather then leads him to a garage that must have been really tucked away around back, where the grandson discovers pops ran off with the Audi e-tron GT concept car for him. At this point, you probably have as many questions as I did … until you discover the poor guy's been choking on a cashew during his four-ringed fever dream. Eye-rolling earnestness, a gag as a gag — this one has it all.
2019 Volvo S60: Intercepting Your Attention
Volvo took a rather different approach to its Super Bowl marketing efforts with a trick Mercedes-Benz used in 2018: running a contest that had everything to do with smartphone stamina and nothing to do with the game itself. The idea is that, provided your phone is equipped for iris scanning, you were eligible to win a sleek new 2019 S60 sedan — so long as you can stare at it on your phone long enough to outlast the competition. That made this far and away the longest commercial of the bunch this year … but also, potentially, the most rewarding. Visit Volvo's site here for more details.
Cars.com's Editorial department is your source for automotive news and reviews. In line with Cars.com's long-standing ethics policy, editors and reviewers don't accept gifts or free trips from automakers. The Editorial department is independent of Cars.com's advertising, sales and sponsored content departments.