10 Biggest News Stories of the Week: 2021 Ford F-150 Bests Volkswagen ID.4, Nissan Kicks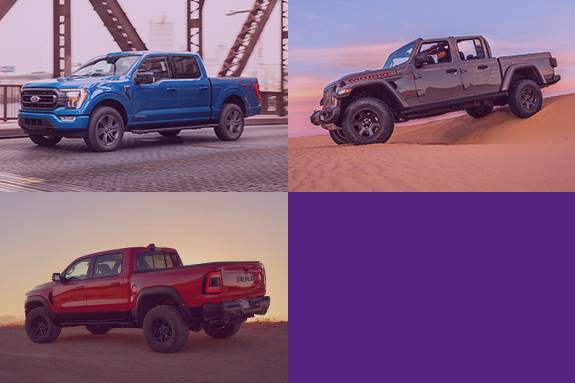 In decades past, pickup trucks were generally considered for heavy-duty work purposes, maybe hauling the occasional couch … and ill-advisedly fording the tailpipe-lapping waters of rural Missouri's Great Flood of 1993 (don't ask). But pickups have long since evolved past their roughneck rep, and they now find themselves in the conversation among some of the most luxurious, family-friendly vehicles on the market.
Related: 10 Biggest News Stories of the Month: Cadillac Escalade, Ford F-150 Battle for Best of 2021
In one of our most popular articles of the past week, Cars.com announced the recipient of its Best Pickup Truck of 2021 award. The 2021 Ford F-150 ran the gauntlet of our high expectations for pickup trucks and came out the other side a winner. In addition to power, capability and value, the perennially bestselling F-150 impressed in payload capacity, towing might and all-around livability versus its fellow nominees, the 2021 Jeep Gladiator Mojave and 2021 Ram 1500 TRX.
The standout of the deceptively redesigned F-150 is its new PowerBoost hybrid drivetrain, offered on all gasoline-powered trim levels. The system cranks out 430 horsepower and 570 pounds-feet of torque while boasting a lineup-best fuel economy of 24 to 25 mpg, depending on driveline, for its combined city/highway figure.
"The beauty of this system is that it keeps on delivering — capability, efficiency and one of the biggest pluses, an optional integrated generator, Pro Power Onboard, which provides up to 7.2 kilowatts right in the bed without the hassle of transporting a portable generator and everything that entails (wasted bed space, gas, never-ending theft risk)," Cars.com judges noted in their decision.
You can get our editors' full rationale by following the link below to this week's No. 3 news article. Also be sure to check back later this week when Cars.com reveals the winner of its top annual award, Best of 2021 — for which the F-150 is also nominated, alongside the Cadillac Escalade, Genesis GV80, Hyundai Elantra, Kia Seltos and Kia Sorento.
Also new to this week's countdown is a roundup of hot takes from a quartet of Cars.com editors who took a quick spin in the ID.4, Volkswagen's all-new compact electric SUV. While the ID.4 earned praise for its mannered ride, eager acceleration from a stop, and comfortable and spacious cabin, its reliance on touch-sensitive controls rubbed everybody the wrong way. You can get their full impressions by following the link below to the No. 7 article of the week.
Meanwhile, checking in at No. 8 is our rapid-fire rundown of the things we like and don't like about the refreshed 2021 Nissan Kicks. The SUV-like hatchback earned brownie points for aesthetic updates, customizable color choices, gas mileage, highway handling, urban adeptness, cabin space and value — though we weren't so sweet on its anemic acceleration, steering feel and lack of available all-wheel drive.
Beyond all that, we have headlines on the Tesla Model 3 and Model Y, and much more, so keep reading. Here are the top 10 news stories Cars.com readers couldn't get enough of in the past week:
1. Shopping for a Used Car? Here Are the Most Reliable 2018 Vehicles According to J.D. Power
2. Tesla Drops Base Price for Model 3, Model Y: Here's What They Now Cost
5. 2021 Luxury Car of the Year
6. 2021 Family Car of the Year
7. A Quick Spin in the VW ID.4 Leaves Us Wanting More … Time, Buttons
8. 2021 Nissan Kicks: 7 Things We Like (and 3 Not So Much)
9. Here's Every Car That Earned an IIHS Top Safety Award for 2021
10. What's New With Diesel Vehicles for 2021?
Related Video: